12 November 2007
Christian pastor flees Palestinian town amid threats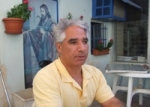 A Palestinian-American Evangelical Christian pastor has fled the de facto Palestinian capital of Ramallah for the safety of nearby Jerusalem following increasingly hostile threats by officials within Mahmoud Abbas' Palestinian Authority.
This news was revealed in a story carried on [->www.israeltoday.co.il].
Born in the US, Isa Bajalia returned to his parents' hometown of Ramallah more than 16 years ago to bring humanitarian aid and comfort to the Palestinian Arabs, as well as spread the Gospel.
"But his increasingly bold missionary activity and his refusal to allow Muslim elements to encroach on his family's property - a common abuse suffered by Palestinian Christians - resulted in a Ramallah municipal official who moonlights as a member of the Tanzim terrorist wing of Abbas' Fatah movement threatening to cripple and murder Bajalia," said the story.
"Bajalia told Cybercast News Service that following last month's brutal murder of a fellow Christian in the Gaza Strip for his sharing of the Gospel, he is taking the threats very seriously."
The story continued, "The worried pastor first turned to the Palestinian Authority for protection, but was told by Palestinian security officials that they would only help him if he first paid $30,000.
"Bajalia then relocated to Jerusalem, where he filed a complaint with the American consulate in an effort to put pressure on the Palestinian Authority to do its job and provide security to all its citizens. After a week of waiting, Bajalia had received no response from the Americans."
© Assist News Service
posted by /http://www.spcm.org