01 April 2007
Easter and the Passion of Jesus Christ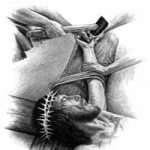 CBNNews.com - We're coming up on the holiest week on the church calendar - the days leading up to Good Friday and Easter Sunday
tonight's Deeper Connection segment, Elder Kirk Hillman from Greater Shiloh Church shares some reflections on the passion of Jesus Christ.
As we embark upon this upcoming Passion Week leading to the celebration of the resurrected Christ, let us each examine our hearts.
If a person is born without physical sight, he doesn't know his condition to be abnormal.
Well, without Jesus, we are all blind!
It is only when someone tells us that we can see, that we become aware of this physical deficiency.
Unfortunately, denial and disbelief usually follow the introduction of this truth.
Man is like this blind person. He believes that his life is normal.
He believes that he is good. He believes that he is on his way to Heaven when he dies. He believes that everything is fine between him and God.
Well, this is not true. We are all spiritually deficient and in need of a Savior.
Isaiah 53:6 says, "We all, like sheep, have gone astray, each of us has turned to his own way; and the Lord has laid on Him the iniquity of us all."
Our wayward ways keep us from partaking in the great fellowship with the Father. And though God is just, He is also full of mercy. The Father loves each of us, and therefore provides a way for man to be saved from this condemnation.
The provision is in the person of Jesus Christ Who came to Earth to take upon Himself God's condemnation and the sentence of eternal punishment and separation.
This is what the Passion Week is all about and what it should stir in our memories.
We should recollect how Jesus suffered our punishment and died as a substitutionary sacrifice of atonement on a cross, thereby bringing forgiveness and restoration between God and man.
Therefore, you are adopted into His eternal family as a son or daughter -- all because of what Jesus did during the Passion Week.
It is our reminder of the punishment that waits on the Day of Judgment, and the love of a forgiving God.
The resurrection of Jesus Christ on Easter Sunday is our reminder of the gift of mercy and grace for those who come out of denial and believe the truth of our spiritual deficiency in God.
Thank God for the faculty of memory and thank God for a risen Savior!