30 December 2006
Police chief assassinated in Indian Kashmir by militant posing as a woman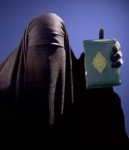 SRINAGAR, India: A suspected Islamic militant gunned down a police chief after posing as a Muslim woman hidden behind a veil in Indian-controlled Kashmir on Saturday, an official said
The brazen attack that killed Pampore police chief Manzoor Ahmed set off a gunbattle that also left a civilian dead and two constables wounded, said police officer Hemant Lohia.
The attacker donned the veil in order to get close to Ahmed, who was on foot patrol at the time of the shooting, Lohia said.
The assailant was able to flee the scene, 20 kilometers (12 miles) south of Srinagar, the summer capital of India's Jammu-Kashmir state.
Ahmed was rushed to a nearby hospital where he was later pronounced dead, Lohia said. The condition of one of the wounded constables was listed as serious.
Abdullah Gaznavi, who identified himself as a spokesman for Lashkar, said Ahmed's killing was in revenge for his involvement in the deaths of many Lashkar guerrillas.
More than a dozen Islamic rebel groups have been fighting security forces in India's portion of Kashmir since 1989 for the region's independence, or its merger with mostly Muslim Pakistan.
The 17-year insurgency has claimed more than 68,000 lives
posted by/http://www.iht.com/