30 December 2006
Iraq Christian Exodus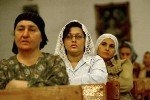 These Christian Iraqi children are able to sing in freedom--now that their families have fled the violence in Bagdad. One year ago, this village in northern Iraq did not exist. Now, sixty
families have built homes here. They and thousands of other Christians have migrated from Baghdad to the safety of Kurdistan.
"It is too dangerous for Christians in Baghdad," says one woman. "We didn't go to church because we were afraid they would blow it up."
Christians make up only two percent of Iraq's population. But they're caught up in the violence like everyone else. "Before we were all living together" says one man, "Now everyone is split into Sunni or Shiite or Christian."
In the town of Aakho, Father Mofeed Toma is helping more than one hundred Christian families arriving each month from the south. "Every day we hear about new families coming here," he says.
He himself had to flee, after armed men kidnapped him last year in the city of Mosul. "They are holding me three days and taking me in a small room and asking me for money, he says. " Father toma told his captors if he had any money, he would give it to the poor anyway. They released him.
Christians in Kurdistan are thankful that they can practice their faith without fear. But this is not their home. Many here plan to wait out the war...and come back down, they say, when peace is restored.

POSTEDBY/
http://www.cbn.com/