31 October 2006
Yemen main destination for jihadists, source claims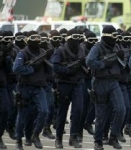 SMALL groups of young Australian men are going to Yemen for jihadi training, according to law enforcement sources concerned the country has replaced Central Asia as
a destination for Australian extremists.
A law enforcement source said Yemen was attracting radical local Islamists for religious and military training because of the counter-terrorist crackdowns in nations such as Afghanistan and Pakistan. "Yemen is the new wild west," the source said.
His claim came as Yemeni intelligence officers interrogated three Australian men accused of smuggling guns to Islamic militants in Somalia and having links to al-Qaeda.
The Department of Foreign Affairs and Trade has yet to make contact with the men, who were arrested two weeks ago alongside a Dane, a German, a Briton and a Somali man.
Foreign Minister Alexander Downer confirmed yesterday that two of the men — brothers aged 18 and 21 — were born in Australia, while a third was born in Poland and gained citizenship in the 1980s.
The family of two of the three Australians say the two brothers were set up by Australian security agencies and had been "hassled" by ASIO before they left the country.
Sydney lawyer Adam Houda said he had been contacted by the family of the two brothers, describing them as devout, law-abiding Muslims who had only recently gone to the Yemeni capital of Sanaa with their families to further their religious instruction.
"They wouldn't be out of place in Byron Bay," he said of the two brothers, who he said were of Anglo-Saxon background.
"The family is very, very upset and they believe there is no doubt the Australian Government is responsible … they used to get hassled in Australia by ASIO and some people intervened when they were flying out of the country."
The arrests are believed to have been orchestrated by the CIA. There were suggestions yesterday the men could be whisked away to Guantanamo Bay to be interrogated.
But terrorism expert Clive Williams, a visiting fellow at the Australian National University, doubted the men would be sent there.
"I'd be doubtful the Americans would want them at Guantanamo Bay because they're trying to wind it down anyway. I'm not sure if the Americans would want more problems at this stage," he said.
Unconfirmed information from security sources suggests that some of the three men have links to the Ayub brothers, the two Indonesian men who set up a Jemaah Islamiah cell in Australia in the late 1990s.