24 October 2006
Catholic Publishing House Under Fire for New Islamic Text Deal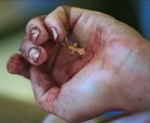 Madrid (CNA) -- The Spanish daily La Razon is denouncing a Catholic publishing company that has agreed to publish text books for Islamic religion classes that will be offered in public schools in Spain. The Santa Maria Foundation, which is operated by the Marianist religious order, has assumed the project of publishing Islamic text books through its publishing group "SM," with the support of
the Union of Islamic Communities of Spain (UCIDE -- Spanish abbreviation). The first textbook, which has been released to reporters, is called, "Discovering Islam."
SM, says the purpose of their decision to publish Muslim texts "is to foster intercultural encounter and religious dialogue, with the integration of Islamic values in the socio-cultural context of Spain," La Razon, however, argues the deal is really about getting Muslim business.
According to the Spanish newspaper, the UCIDE will sell the books at the same price as books on the Catholic religion published by the Marianists. The first printing of the books should thus bring over $275,000 in revenue. SM says the profits will be used to finance future editions, and if the UCIDE is able to sell 15,000 copies each of all seven volumes of the series, it will earn some $1.5 million in profits.
According to reporter Alex Navajas of La Razon, "In countries like Saudi Arabia or the Sudan, if you are caught with a Bible, you are sentenced to death…Surely the Islamists in Spain are not as fanatical as the Saudis or the Sudanese. But that's not what this is about. The problem is that SM, whose 'identity is inspired by Christian values'," has fallen prey to "the most severe form of relativism and syncretism."
"That is, there is no difference between promoting the Christian faith or the Islamic faith because, in the end, all religious are equal since all of them lead to God. So, let them publish the Book of Mormon, which is just nonsense, or come to an agreement with the Jehovah's Witnesses, who own one of the most powerful publishing companies in the world," Navajas said.

© 2006, Assyrian International News Agency. All Rights Reserved. Terms of Use.