23 October 2006
More young Christian women abducted, raped in Middle East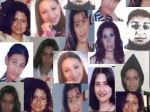 (Catholic News Australia) Young Christian women are among the preferred targets of Iraq's growing abduction problem with many being raped and some committing suicide as a result of the shock, violence and shame they experience.
AsiaNews
says that this is all happening in Baghdad where kidnapping has become a growth industry. Criminal gangs are lining their pockets as the number of victims grows and the line-ups at border posts grow even longer with people trying to flee the country.
Christians from any denominations, clergy or laity alike, are one of the preferred targets in the capital.
In Mosul on Monday, another priest was abducted, Fr Paulos Eskandar, from the Syrian Orthodox Church. A huge ransom has already been asked.
Sources in some communities of nuns in Baghdad have relayed other stories they witnessed. Last Sunday two young Christian women were abducted but under different circumstances: one at home as her helpless family could do nothing but watch; the other, at an open market where four armed men spirited her away in a car leaving behind a distraught mother.
Often incidents do not end with the prisoner's release. In one case in Baghdad, the victim committed suicide after the ransom was paid and she went home because of the torture and sexual violence she suffered.
In another case, a young woman talked to her family by phone and told them: "I'm dead", referring to being gang raped. She eventually committed suicide whilst still in the hands of her tormenters.
Unofficial estimates put the number of young women and girls abducted in the last two weeks at 12.
Meanwhile Iraqi Christians are increasingly scared. Sources in northern Iraq told
AsiaNews
that "hundreds of families are on the run, fleeing towards the border with Syria".
Update: Fr Paulos Eskandar killed
A later report by
AsiaNews
says that Fr Paulos Eskandar was killed today by unidentified assailants. The motive for the crime is unknown.
The priest's body was found in the eastern district of Mosul. The identity of his abductors remains unknown.
Abductions of Christian women in Egypt
Meanwhile, 10,000 Coptic Christians in Egypt were prevented by police from taking to the streets of Cairo to protest the sudden disappearance of teenage Christian girls by Islamists.
The girls are later reported to be married to Muslim men who are often twice their age, Coptic Church sources say.
In all of these cases the Egyptian Authorities and Police were aware of the location of those under 18 abducted girls - however they have been extremely negligent - by making promises which they do not keep, by forbidding the affected families to see or talk to their child, and by not bringing the kidnappers to justice. Not one of the abductors has been brought to justice, the sources say.
One of these victims was Laurance Wagih Amin, a 15 year old from Al Mahalla El Kubra, Egypt, who was kidnapped by Islamic fundamentalists for the purpose of conversion to Islam but fortunately escaped from her kidnappers and was able to tell her story.
In July this year another young girl from El Fayoum, Demiana Makram Hanna, suddenly disappeared.
After much effort her family were informed that their daughter had declared her change of religion to Islam and that she had married a Muslim.
As usual the family were refused access to their daughter. Two months later, a relative of the husband approached Demiana's family and demanded 20,000 Egyptian Pounds for her release.
After accepting the offer, the family requested support from the church in El-Moukatam in the Cairo suburbs, which sent four youth workers to meet the girl.
Not realising that they were being set up, the group proceeded to the location indicated. Within five minutes of arriving, they were overwhelmed by the interior security police who imprisoned the men and accused them of a number of serious charges.
After investigation in the matter by the local police, the men were all freed only to be later all re-imprisoned by the interior security police.
The incident has sparked anger amongst thousands of the youth in El-Moukatem for two days last week. It is reported that the situation is very tense in the region.
More and more Copts in Egypt are being marginalised and their basic human rights are being threatened, Coptic Church sources say.
SOURCE
Abducted and raped, young Christian women and girls are driven to suicide in Iraq (AsiaNews, 11/10/06)
Up to 10,000 Christians attempt to take to the streets of Cairo for the second day (Coptic Church Australia, Media Release, 12/10/06)
Read more :
http://www.kidnappedchristiangirls.org/