11 October 2006
Albany Mosque Leaders Caught in Terror Sting Convicted of Money Laundering
ALBANY, N.Y. — Two mosque leaders arrested in a terrorism-related sting were convicted Tuesday of federal money laundering charges.
Yassin Aref, imam at the Masjid as-Salam mosque in Albany, and Mohammed Hossain, a pizzeria owner and a founder of the mosque, were never accused of being terrorists, but prosecutors said they laundered money in 2003-04 for an FBI informant.
They were accused of attempting to provide support to Jaish-e-Mohammed, a Pakistan-based group listed by the federal government as a terrorist organization.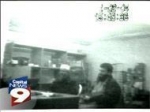 Hossain was convicted on all 27 charges against him, including three counts of conspiracy. The jury, which deliberated over four days, found Aref guilty of 10 of the 30 charges against him.
Prosecutors said the informant, a Pakistani businessman posing as an arms dealer, asked Hossain to launder $50,000 from the sale of a shoulder-fired missile that they were told would be used to kill a Pakistani diplomat in New York City. Aref acted as a witness to the series of transactions.
"Obviously we had a couple of individuals that were prone to supporting terrorism," U.S. Attorney Glenn Suddaby said after the verdict. "The FBI did what they had to do."
Aref, a 36-year-old Kurdish refugee from northern Iraq, was also found guilty of lying to FBI agents about having known a terrorist leader, Mullah Krekar.
Assistant U.S. Attorney William Pericek said through the sting, the men were simply offered an opportunity to choose whether to participate with the informant in a terrorist plot.
Defense lawyers said the two men had an incomplete understanding of what the informant was proposing. Hossain's lawyer, Kevin Luibrand, said his client was entrapped. Aref merely thought he was acting as a witness to financial transactions according to Muslim custom, said his lawyer, Terence Kindlon.
Hossain, a 51-year-old naturalized U.S. citizen from Bangladesh with severe diabetes, faces about 20 years in prison. Luibrand said that is tantamount to a life sentence and that the verdict likely will be appealed.
Kindlon did not comment on what kind of sentence Aref could face, saying he didn't want to speculate. Pericek said Aref likely would be deported after serving his prison sentence.
Luibrand added that his client had not committed any crimes, nor did he intend to, before he was targeted by the government. The FBI acknowledged Aref was its ultimate target, using Hossain to get close to him.
The men are scheduled to be sentenced Feb. 12.