14 September 2006
CAIR's Congressional Candidate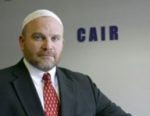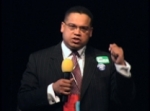 (news.yahoo.com) Today's Democratic primary in Minnesota's very blue fifth Congressional district could prove historic. If he wins, Keith Ellison would be all-but-assured to be the first
Today's Democratic primary in Minnesota's very blue fifth Congressional district could prove historic. If he wins, Keith Ellison would be all-but-assured to be the first Muslim ever elected to the U.S. Congress. It would also mark the first time that someone ascended to Capitol Hill courtesy of key support from the Council on American-Islamic Relations (CAIR).
Ellison has received financial and other help from executives at CAIR, which has deep connections to supporters of Islamic terrorism. Also among those who have contributed money to the candidate are an official from a group that participated in a "tribute" to the Iranian despot Ayatollah Khomenei and leaders of what is considered the political front in the U.S. for the Muslim Brotherhood.
While Ellison could be genuinely ignorant of the disturbing records of some his supporters, he at least owes voters an explanation--and hopefully, an apology. Assuming he does, though, he needs to re-build his credibility by being more forthcoming about the true extent of his past with the Nation of Islam.
It appears he's not ready to apologize anytime soon, however. Though his campaign staff initially gave assurances that Ellison would be available for interview, the candidate for reasons unknown never returned this columnist's repeated phone calls.
Awad's assistance
At a fundraiser two weeks ago that the campaign estimates raised approximately $15,000 to $20,000, one of two speakers besides Ellison was Nihad Awad, the founder and executive director of the Council on American-Islamic Relations (CAIR).
This wasn't Awad's first assist. A month earlier, he apparently delivered to the campaign "bundled" checks amounting to just over $10,000. ("Bundling" is the practice of one person soliciting multiple checks for a campaign.) The campaign denies the contributions were bundled, but seven checks from residents of Virginia, Awad's home state, and Texas, where Awad has strong ties, were received by the campaign on July 22. One of the checks was for $2,000 from Awad himself, and on the next day, the campaign logged a contribution from CAIR's Director of Government Affairs, Corey Saylor.
Though it claims to be simply a civil rights group for Muslims, CAIR is at best agnostic on Islamic terror, and at worst, a cheerleader for it. Two of its officials have been convicted on terrorism charges, and as an organization, while CAIR forcefully attacks critics of radical Islam, it has yet to condemn by name any Islamic terror organization other than al Qaeda--which it denounced only reluctantly several months after 9/11.
CAIR's former communications and civil rights coordinator was convicted in 2004 on terror-related charges of plotting to wage violent jihad against the U.S., and the founder of its Texas branch last year was convicted of terror-related charges.
Given CAIR's history, though, the convictions are not exactly surprising. The parent organization of CAIR is the Islamic Association of Palestine. Though CAIR bristles at that characterization, its two founders, Awad and Omar Ahmad, were both high-ranking IAP officials when they founded CAIR in 1994, and they maintained close relations for years afterward. IAP, which appears to have ceased operations within the past two years, was an openly anti-Semitic organization long believed to be Hamas' political front in the U.S. A civil court judge in Illinois last year confirmed those suspicions when he declared that there was "strong evidence that IAP was supporting Hamas."
Both of CAIR's founders have given rhetorical support to Islamic terrorism. In a speech at Barry University in Florida in 1994, Awad declared, "I'm in support of the Hamas movement." Addressing a youth session at the 1999 IAP annual convention in Chicago, Ahmad praised suicide bombers who "kill themselves for Islam": "Fighting for freedom, fighting for Islam, that is not suicide. They kill themselves for Islam." (Transcript provided by the Investigative Project.)
Although CAIR has repeatedly condemned "terrorism," it has pointedly refused invitations to do so by naming specific Islamic terrorist organizations. In November 2001, the Washington Post asked a CAIR spokesman to condemn Hamas or Islamic Jihad. He refused, explaining, "It's not our job to go around denouncing." Given a similar opportunity to denounce Hamas and Hezbollah by the Pittsburgh Post-Gazette in February 2002, CAIR spokesman Ibrahim Hooper called such queries a "game," and added, "We're not in the business of condemning."
But for those unfamiliar with the group, CAIR is very much "in the business of condemning"--but only when it comes to TV shows,
Israel
, or U.S. policy.
Cash from Awad's Associates
Also of concern are other contributors to Ellison's campaign.
· Shahzeb Gaziani gave $500 on July 22. He is an official with the Peace and Justice Foundation, whose president was a featured speaker at a December 2004 event titled, "A tribute to the great Islamic visionary Ayatollah Khomenei." Khomenei, of course, called America the "Great Satan," was responsible for the kidnappings of Americans at the Embassy in Tehran, and his regime helped create Hezbollah.
· Esam Omeish, who gave $500, is president of the Muslim American Society, which authorities believe is the political front in the U.S. for the Muslim Brotherhood, which is the ideological forerunner of al Qaeda and many other Islamic terrorist organizations.
· Samir Abo Issa gave $500 on July 22. In 2003, he helped post bail for Abdelhaleem Ashqar, who is now facing trial on terror-related money laundering charges.
Ellison's defense
In a written statement, Ellison's campaign said, "As part of Keith's overarching philosophy of peace, he supports reaching across the ideological and religious barriers." What barriers? The ones that divide those who don't support Islamic terror from those who do?
Keenly aware that Awad's embrace of Ellison is creating controversy, the campaign claims it was local Minnesota Muslims who invited Awad, even though it is Ellison who has known him for almost two decades. Communications Director Jim Leinfelder defended the relationship with Awad, noting that CAIR's executive director was at a Presidential gathering shortly after 9/11. But it was precisely because of that incident that outcry over Awad and CAIR skyrocketed. And after IAP shuttered in the wake of being found liable in a civil court in 2004 for supporting Hamas, focus on Awad has only intensified.
Credibility problems
It's not just his refusal to explain his relationships with Awad and others that is troubling. Ellison's credibility is thin, considering his lack of candor this spring when he apologized to the Jewish community for his past "ties" to the Nation of Islam. He appears to have understated both the duration and nature of his affiliation with the NOI.
Though Ellison claims he didn't recognize NOI's anti-Semitism while involved with the organization, news accounts from 1997 suggest otherwise. According to the Star-Tribune, Ellison served as the NOI spokesman at a public hearing concerning anti-Semitic comments allegedly made by then-executive director of the Minnesota Initiative Against Racism Joanne Jackson. Reading the NOI's statement at the meeting, Ellison said he and his colleagues were there to "stand by the truth in the remarks attributed to her." Even though Jackson claimed she was misquoted, Ellison added that she "had every right to say that some of the most racist whites she has ever met were Jewish."
Ellison's claims of ignorance ring hollow given some of the NOI's anti-Semitism came out of his own mouth.
Which brings us back to his current company. Awareness of Awad's true nature has sharply increased in recent years. A simple Google search would have made Ellison's campaign leery of any affiliation.
Unfortunately, local press coverage has been appalling. Almost nothing about CAIR or Ellison's ties to Awad have been reported in the Minneapolis Star Tribune. National Democrats, though, should know all about CAIR, as leaders from the party, such as Sen. Dick Durbin and Sen. Chuck Schumer, have denounced the organization.
But if Ellison wins today, the media could begin showering "the first Muslim ever elected to Congress" with tremendous affection, creating a ripe opportunity for Democrats to pander to a new minority group.
How will the Democrats respond? Will they shun the politician who accepted CAIR's embrace, or will they join in the celebration and sacrifice principle in the process?