31 July 2006
Australia: Muslim Rape Gang Leader Smiles As He Is Sentenced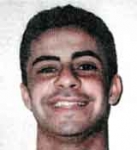 There is something deeply disturbing about this case. Rape is always something vile, violent and unconscionable. That it should happen in a gang of up to 14 members, when its youngest victim was 16, is bad enough. That the rapists are unrepentant, and with one Muslim "spokesman" now saying that the leaders of the gang should be "honoured and respected", makes the case more sickening still.
Last December, riots took place on Cronulla Beach between white gangs and Lebanese Muslim gangs. Mark Steyn commented that one fault of the riots lay in young Muslims' refusal to integrate. We quoted from his article:
In Sydney in 2002, the leader of a group of Lebanese-Australian Muslim gang-rapists was sentenced to 55 years (halved on appeal).

The lads liked to tell the lucky lady that she was about to be "fucked Leb-style" and that she deserved it because she was an "Australian pig". It was the sentence that was "controversial". As Monroe Reimers wrote to the Sydney Morning Herald: "As terrible as the crime was, we must not confuse justice with revenge. Where has this hatred come from? How have we contributed to it? Perhaps it's time to take a good hard look at the racism by exclusion practised with such a vengeance by our community and cultural institutions."
But for many Australians, the case of the rape gang led by Bilal Skaf (pictured above left) created nothing but rage and resentment at the brazenness of the perpetrators.
As Mark Steyn said, Bilal Skaf was sentenced on 15 August 2002 to 55 years' jail for leading a series of rapes which took place in and around Sydney in 2000. The sentencing report makes for grim reading. Justice Michael Finanne states that the gang's attacks were coordinated using cellular phones, and led to young girls being lured away, sometimes on the pretext of being taken off to smoke marijuana, and then being met by other youths in vehicles. The details of what the girls were subjected to are horrific. The sentencing report from 2002 is found at the foot of this article. It is graphic, and shocking.
Unfortunately, Bilal Skaf's conviction for the attack on their youngest victim, a 16-year old girl, which happened in Gosling Park, Greenacre, on August 12, 2000, was quashed in 2004. It was discovered that during the trial, two jurors had independently gone to the scene of the crime to conduct "their own investigations". As a result, the New South Wales Court of Criminal Appeal overturned the convictions of Bilal Skaf and his younger brother Mohammed. Mohammed Skaf, previously unnamed because he had been a minor, was 17 at the time of the rape.
The victim of the Gosling Park rape attack had been too scared to once again confront her assailants, and at one stage charges were withdrawn. But laws were changed in New South Wales, and these allowed the victim to respond to the court in a retrial using her previous evidence from the 2002 trial. This was read out in question and answer form by a solicitor and a prosecutor.
According to the Melbourne Age, the retrial led to the two brothers being reconvicted of the Gosling Park rape incident in April of this year. 24-year old Bilal Skaf was found guilty on two counts of aggravated sexual intercourse without consent in company. Mohammed Skaf was convicted of being an accessory after the fact.
The two men were already convicted of the other rapes in which they had been involved, and were in prison, but on Friday (July 28), the two men were handed down their sentences. Mohammed Skaf was sentenced to 15 years' jail, with a minimum of seven and a half years to spent incarcerated, for his part in oranising the Gosling Park rape(s).
Jane Mathews, acting NSW Supreme Court judge, sentenced Bilal Skaf to a minimum of eleven years' jail, additional to the 22 years' minimum jail for the other rapes he committed.
Bilal Skaf briefly smiled when Justice Mathews sentenced him. When he was originally convicted in 2002, he had laughed. When he had received his sentence in 2002 he had sworn at the judge.
Justice Mathews said that the attack by 14 men was "cruel, callous and degrading".
Mohammed Skaf had befriended the 16 year old, known in court proceedings as Miss D. She had known him for six months, and her mother knew him. Skaf had suggested that they drive to the city center of Sydney. She went to get in the car for the drive at 9pm, and found two other men, Ibrahim and Michael, already inside the vehicle.
As they drove, the males had been using their mobile phones and conversing in Arabic. Before Miss D had got into the car, Mohammed had been talking to Bilal about the plan. The car was stopped at Gosling Park. The men tried to persuade the teenager to have sex with them, and Mohammed Skaf tried to use various plays to persuade her not to leave the car.
A car and a white van arrived. Mohammed then disappeared. Bilal Skaf tried to get Miss D to "go for a walk" with him, and when she refused he grabbed her by the hair and threw her onto the ground. With up to 14 associates holding the girl down, Bilal Skaf committed vaginal rape, and others digitally penetrated her. When Skaf had done, another man claimed it was his turn and raped her. One man held a gun to her head and kicked her in the stomach.
The girl, described by the judge in the 2002 trial as "exceptionally brave" then fled, and ran across the park to a telephone box. As she was in the phone box, the van drew up and one of the attackers drew a gun, ordering her to get in the van. She was screaming, and when a man came round the corner and walked forward, the gang fled. The man took her to his apartment and she phoned a friend who came to take her home.
The effect of the sentencing upon the two men means that Bilal Skaf will serve at least 32 years' jail for the three gang rape incidents. His earliest possible date for release will be February 11, 2033, when he will be 51. He could serve a maximum of 38 years. Mohammed Skaf will serve a minimum of eighteen and a half years, and will become eligible for parole on July 1, 2019, when he will be 36.
The mother of Miss D said outside the court: "I've spoken to my daughter today. She's very, very happy. She cried, she laughed. She's not here today, so obviously it has affected her to the point where she can't have anything to do with this."
"She'll never forget it but hopefully she'll be able to talk about it," the mother said. "They would not be sitting in jail this long if it was not for the new laws (which allowed Miss D to testify without confronting her assailants) and the media attention."
The nature of the three gang rapes, involving forced oral sex, shocked even prisoners. While Bilal Skaf had been originally confined in Long Bay Correctional Centre, there was a plot by other prisoners to inject him with blood tainted with the HIV virus. As a result, he was transferred to the maximum security Goulburn Gaol.
The dramas did not cease there. While he was residing in Goulburn Super-Max prison, in July 2003, telephone threats were made to the police, saying that if Bilal Skaf was not released within three days, staff at Goulburn Local Court would be shot.
During Skaf's stay in Goulburn, he came into contact with Zeky (Zak) Mallah, (pictured right). In December 2003, Mallah became the first person to be arrested (subsequently acquitted) under new terrorism laws. He served two years in jail for threatening to kill Commonwealth officers, but was acquitted on two charges of preparing for a terrorist act.
Details of Mallah's trial can be found here and here. He had allegedly plotted to shoot up the offices of the ASIO, the nation's intelligence agency, or the Foreign Affairs Department in Sydney, after he was refused a passport to travel to Lebanon in 2002. Mallah now acts as "spokesman" for the brothers.
Zeky Mallah, according to News/com.au and the Courier Mail, stood outside the Supreme Court, and delivered an impassioned eulogy to the two thug rapists. He said: "Bilal Skaf and Mohammed Skaf should be more honoured and respected for the crimes they committed, if they did, because at least these two have not killed any of the victims like the American soldiers have (in Iraq)."
"It is okay to label this young man and his brother as rapists who deserve 55 years more or less according to your judges, which in reality is life imprisonment."
"But it is not okay to label some American soldiers who rape innocent young Iraqi women as American rapists."
A fine example of Muslim logic. Because they did not kill their victims, then Mohammed and Bilal Skaf should be "honoured and respected".
I blame the poor example of the "prophet" for such hideous travesties of logic. Call a rapist paedophile, mass-murdering thief a "messenger of Allah", and you give his followers a green light to condone any atrocity.
Below is the sentencing report from 2002, by Justice Michael Finnane. It contains graphic descriptions of acts of rape and degradation. You have been warned