29 July 2006
Saudi Arabia's Curriculum of Intolerance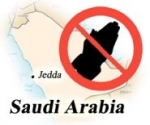 CBN.com – SAUDI EMBASSY, Washington - At the close of each school year , students across the U.S. reflect on what they have learned. The same is true in Saudi Arabia where young people can spend their summer vacation mulling over lessons like these:
Every religion other than Islam is false."
"It is forbidden for a Muslim to be loyal friends to someone who does not believe in Allah and his prophet..."
"...the Arabs and Muslims will emerge victorious, Allah willing, against the Jews and their allies if they stand together and fight a true jihad for Allah..."
"...the apes are Jews, the keepers of the sabbath; while the swine are the Christian infidels of the communion of Jesus."
This is just a small sampling of what students are learning in Saudi elementary schools. And it only gets worse from there.
"They are taught in 12th grade that there is a religious obligation for them to wage violent jihad, militant jihad, against the Christian and Jew in order for them to spread the faith," said Nina Shea, director of the Center for Religious Freedom at Freedom House.
Recently her group released a report called "Saudi Arabia's Curriculum of Intolerance" that provided English translations of textbooks used in Saudi schools.
"It then builds every year after that," Shea explained, "and the arguments get deeper and deeper that we are the enemy, that they have to hate us -- 'us' being Christians and Jews and other Muslims, all Muslims who do not follow Wahhabi doctrine."
After 9/11 and a previous Freedom House report that exposed Saudi religious intolerance, all of that was supposed to change. The Saudi government has said repeatedly over the past few years that it has removed any and all radical materials from its textbooks. But according to one prominent Saudi dissident, such a claim is just lip service.
Ali al-Ahmed is director of the Institute for Gulf Affairs in Washington. He said, "They sing it, but they don't bring it. They do say a lot of things, but in actuality they have not done the necessary work to reform."
Al-Ahmed supplied Freedom House with the textbooks used in its report – textbooks that had supposedly been cleaned up.
"If only one percent of the 5 million students in Saudi Arabia take these ideas to heart, you have 50,000 people. And if this is one percent a year, imagine how many terrorists and extremists who you will have," he said.
But according to Shea, these extremist Saudi teachings extend far beyond the borders of Saudi Arabia.
Shea said, "We do know that the Saudis maintain an elite network of 20 schools in world capitals, including one outside of D.C."
That would be the Islamic Saudi Academy in northern Virginia, just 14 miles from the White House. The academy is owned and operated by the Saudi government. Al-Ahmed told CBN News that it uses some of the same textbooks as those used in Saudi Arabia.
"The chairman of the Board of Trustees of the Saudi Academy is the Saudi ambassador, Turki Faisal al-Saud," he said. "And the principal is also a Saudi diplomat."
The Islamic Saudi Academy did not respond to CBN News' requests for comment. The Saudi Embassy directed us to a statement on its Web site which says:
The Saudi government has worked diligently during the last five years to overhaul its education system. Overhauling an educational system is a massive undertaking. There are hundreds of books that are being revised to comply with the new requirements, and the process remains ongoing.
Saudi Arabia's ambassador to the U.S., Prince Turki al-Faisal, said the Saudis are changing, but change takes time. Shea said the U.S. State Department should help move those changes along.
"They need to mount and sustain a campaign against this at a diplomatic level," Shea said. "They need to, at very high levels of the government, complain about this. Because it is working against us. This is a strategic ally of the United States, Saudi Arabia, and they are undermining us in these textbooks. They are indoctrinating the next generation of Saudi students with hatred for the United States and for our people."
The Saudi government has spent billions of dollars over the last few decades spreading radical Wahabbi Islam around the world. Osama bin Laden is one Saudi native who knows just how valuable this is. In a recent audiotape, he warned the U.S. not to interfere with the Saudi school curriculum.