29 July 2006
Gunman (MUSLIM ) kills 1, injures 5 in shooting at Jewish Federation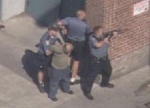 SEATTLE – One person is dead and five others have been injured in a shooting at the Jewish Federation at 2031 Third Ave. in downtown Seattle. One suspect has been taken into custody.
spokesman Rich Pruitt said police are confident that only one shooter was involved.
Sources told KING 5 the suspect is a 31-year-old Pakistani man with a criminal background. He is from the Pasco and it a U.S. citizen, but it was not immediatly known how long he has lived in the United States. Also unknown is what sort of criminal record he has. Officials are on the way to the Pasco to interview his family.
According to the Seattle Times, a man got through security at the Jewish Federation and told staff members, "I'm a Muslim American; I'm angry at Israel," then began shooting, according to Amy Wasser-Simpson, the vice president for planning and community services for the Jewish Federation.
FBI spokesman David Gomez said officials believe the suspect acted alone and is not affiliated with a foreign organization.
A Harborview Medical Center spokesperson said five women were brought in, and three of them are in critical condition. They have not yet been identified. Their ages are 23, 27, 29, 19 and 43. The 43-year-old woman was reportedly shot in the abdomen. Two vicitms were in satisfactory condition: a woman, who's 17 weeks pregnant who was shot in the arm and another victim with a knee injury
A joint terrorism task force joined SWAT teams and a bomb disposal unit at the scene. The suspect's vehicle, a pickup truck, was in a nearby garage in the Bed, Bath and Beyond building, at 1930 Third Ave. Police cordoned off part of the garage before they determined there were no explosives inside the vehicle.
Police said they didn't know if all the people who were wounded were inside the building. They also don't know how the suspect got into the building, which is said to be one of the most tightly secured buildings in Seattle. There were about 10 people inside at the time.
"Throughout the city, we have directed all our patrol officers to monitor closely all synagogues and other Jewish organizations, and we have also advised neighboring agencies in the Puget Sound area to do the same," said Nick Metz, Seattle Police Department.
At 4:03 p.m. police got a 911 call, saying one or two people had been shot. At one point the suspect himself called police and told them he had hostages.
Several witnesses said they saw a man walk up to the entrance of the building and shoot a woman in the leg. The man then walked into the building and made it up to the roof.
Witnesses said they heard one shot while the man was on the roof. The man then went back inside and witnesses said they heard several more shots.
One wounded victim was initially unable to get to an ambulance because the situation was apparently too dangerous.
Patti Simon was at work at the federation's newspaper on the first floor when she heard screaming, shots and what sounded like furniture crashing on the floor above.
"We heard this horrible screaming on the floor above us and shots," said Simon, 52, who sells advertising at the paper. "We didn't know what was happening."
KING
Simon called up to her co-workers on the second floor, but got no answer, so she called the police and fled the building.
"People got shot, some of our co-workers," Simon said, her voice shaking. "I just got back from Israel and made it out of there a half hour before the rockets started."
Simon said the federation has security in the building.
"Somebody must have lied their way in," Simon said.
According to Seattle Police Chief Gil Kerlikowske, the suspect gave himself up to SWAT officers at 4:15 p.m. He was not armed at the time because he had left the gun inside.
Kerlikowske said the shooting will be treated as a homicide and a hate crime.
The Jewish Federation of Greater Seattle says on its Web site that its mission is to "ensure Jewish survival and enhance the quality of Jewish life locally, in Israel and worldwide."
This past Sunday at Luther Burbank Park on Mercer Island, thousands of people rallied in support of Israel's right to defend itself. More than 40 community organizations stepped forward to sponsor and support the event.
When told witnesses heard the suspect say he was angry at Israel, Iantha Sidell, past chairperson of the Jewish Federation Center, called the shootings a hate crime. She said: "We believe in life and it's hard to believe there will ever be peace when you're dealing with people who don't value life."
Regulary scheduled services are still going on in some synagogues in Seattle. One rabbi said people would want to be together at this difficult time.
Various sources recently cautioned temples and Jewish organizations to be on alert for dangerous activity, especially with the current Mideast violence and the coming of the Sabbath.
"This is a terrible tragedy for all of the victims and their families. Our prayers are with them today. We don't know the exact reason, but it appears that it was purposeful. This is a community that prides itself on being a safe place to live and work. We will come together for these families and help them through this terrible situation. In the meantime, the Seattle Police Department will be providing added security to all Synagogues and Temples in the city until further notice," said Seattle's mayor Greg Nickels in a statement.
Rev. Sanford Brown, Church Council of Greater Seattle Executive Director, expressed shock, grief, and sadness. "This is a senseless and immoral action in which a sick individual targeted innocent people," said Brown. "There is no justification for this violence against the Jewish Federation, no matter the situation in Israel and Lebanon. This crime is an evil act planned by a twisted mind. The Church Council extends its very deepest sympathy to the victims of this violence. We grieve for the families of the injured and dead. We pray that there will be an end to violence against Jews all over the world... Seattle is a place of interfaith understanding and cooperation. This incident does not reflect the kind of understanding and harmony that we have come to expect here. It will take many years for our interfaith work to overcome this tragedy."
The Church Council of Greater Seattle represents 419 Christian congregations in 17 denominations. It frequently partners with Jewish and Muslim groups to promote unity and cooperation among faith groups.
KING5.com and Wire Reports