11 July 2006
MUSLIMS WORK IN INDIA : Bombs tear through Indian trains; 147 dead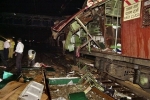 BOMBAY, India - Eight bombs hit Bombay's commuter rail network during rush hour Tuesday evening, killing at least 147 people and wounding more than 400 in what authorities called a well-coordinated terrorist attack.
There was no immediate claim of responsibility in the bombings, which came in quick succession — a common tactic employed by Kashmiri militants. The blasts came hours after a series of grenade attacks by Islamic extremists killed eight people in the main city of India's part of
Kashmir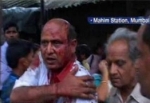 .
India's major cities were put on high alert. Prime Minister Manmohan Singh convened an emergency Cabinet meeting and said that "terrorists" were behind the attacks, which he called "shocking and cowardly attempts to spread a feeling of fear and terror among our citizens."
Pakistan, India's rival over the disputed territory of Kashmir, quickly condemned the bombings.
Chaos engulfed the crowded rail network in India's financial capital following the blasts that ripped apart densely packed carriages on trains that police said had either pulled into stations or were traveling between them. Doors and windows were blown off the train cars, and witnesses said body parts were strewn on the ground.
After meeting with his Cabinet, Maharashtra state Chief Minister Vilasrao Deshmukh said Tuesday night that the death toll was 147, with another 439 wounded.
Deshmukh, the state's top elected official, also corrected initial reports of seven blasts, saying there had actually been eight, including two at one station.
Authorities struggled to treat survivors and recover the dead in the wreckage amid heavy monsoon downpours, and the effort continued into the night. Survivors clutched bandages to their heads and faces, and some frantically dialed their cell phones. Luggage and debris were spattered with blood.
There was no immediate indication if suicide bombers were involved. Police inspector Ramesh Sawant said most of the victims suffered head and chest injuries, leading authorities to believe the bombs were placed in overhead luggage racks.
"I can't hear anything," said Shailesh Mhate, a man in his 20s, sitting on the floor of Veena Desai Hospital surrounded by bloody cotton swabs. "People around me didn't survive. I don't know how I did."
Another man, bloody bandages over his eyes, held out a phone to a nurse, begging her to call his wife and tell her he was OK.
In Washington, the State Department said it had no information about whether there were any American casualties.
Commuter transit systems have been tempting targets for terrorists in recent years, with bombers killing 191 in Madrid, Spain, in 2004, and 52 in London last year.
A senior Bombay police official, P.S. Pasricha, said the Bombay explosions were part of a well-coordinated attack. Vilasrao Deshmukh, the chief minister of Maharashtra state, where Bombay is located, said bombs had caused all the explosions.
Police reportedly carried out raids across the country following the Bombay blasts. One TV station said a suspect was in custody.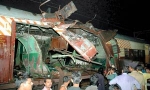 Indian Home Minister Shivraj Patil told reporters that authorities had had some information that an attack was coming, "but place and time was not known."
The bombings occurred after the stock markets ended. The commercial capital suffered similar serial blasts in 1993 that included the Bombay Stock Exchange, killing more than 250 people.
Tuesday evening's first explosion hit a train at a railway station in the northwestern suburb of Khar, said a police officer who spoke on the condition of anonymity because he was not authorized to talk to the media.
Other blasts followed down the line of the western railway at the Mahim, Bandra, Matunga, Borivili, Mira Road and Jogeshwari stations. Some passengers reportedly jumped from speeding trains in panic.
India's CNN-IBN television news, which had a reporter aboard one train, said a blast struck a first-class compartment as the train was moving, ripping through the compartment and killing more than a dozen people.
The Press Trust of India, citing railway officials, said all the blasts had hit first-class cars.
Pranay Prabhakar, the spokesman for the Western Railway, said all train service had been suspended and appealed to the public to stay away from stations in the city of 16 million people — India's principal port on the Arabian Sea.
India and Pakistan have fought three wars since the subcontinent was partitioned upon independence from Britain in 1947, two over Kashmir.
Dozens of militant groups have been fighting Indian rule in Kashmir, demanding the mostly Muslim region's independence, or its merger with Pakistan.
The Pakistani Foreign Ministry late Tuesday strongly condemned the Bombay attacks.
Pakistani President Gen. Pervez Musharraf offered condolences over the loss of life, the Foreign Ministry said, adding: "Terrorism is a bane of our times and it must be condemned, rejected and countered effectively and comprehensively."
New Delhi has accused Pakistan of training, arming and funding the militants. Islamabad insists it only offers the rebels diplomatic and moral support.
Accusations of Pakistani involvement in a 2001 attack on India's parliament put the nuclear-armed rivals on the brink of a fourth war. But since then, Pakistan and India embarked on a peace process aimed at resolving their differences, including their conflicting claims to all of Jammu-Kashmir.
In Washington, two U.S. officials who spoke on condition of anonymity because the events were still unfolding said it was too early to know for certain what group was behind the attacks. But both officials said they were likely part of the sectarian violence over Kashmir.
One of the officials said the attacks' coordinated nature and their targeting of trains at peak travel times match the modus operandi of two Islamic extremist groups that have been active in India during the last several years: Lashkar-e-Tayyaba, or Army of the Righteous, and Jaish-e-Mohammad, or Army of Mohammed.
The U.S. government has designated both groups as terrorist organizations and considers them affiliates of al-Qaida