22 June 2006
India: Muslims Beat, Cut Hair Off Teenage Girl, For Dating A Hindu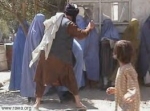 The sickness of the Muslim "mob mentality" which sees people drawn to act in groups, either to call for the death of Danish cartoonists, or to lynch to death anyone who blasphemes against Islam, is also in evidence in India.
Today's New Ind Press reports that in Villupuram in the southern state of Tamil Nadu, a 16-year old Muslim girl has been beaten and had her hair shorn by a mob of angry Muslims.
The girl's "crime" is that she was having an affair with a Hindu youth. This was no part-time or casual fling. The girl's own father condoned the love affair, and has said that when she reaches eighteen, the legal age to marry, he will support her wedding to the Hindu youth.
The Hindu young man is also only 16, but his family has said that they too support the relationship becoming finalised in marriage.
But a group of Muslims took it upon themselves to berate the teenage girl, even though her father had told them not to interfere in what was essentially a private family matter.
On June 11, when the boy and girl were seen in each others' company, the Muslim group abducted the girl, gave her a beating and cut off her hair.
Yesterday, her parents lodged an official complaint with the district superintendent of police, seeking action against the Muslim fanatics who attacked their daughter
.westernresistance.com