22 June 2006
Hate-spreading cleric to speak in Canada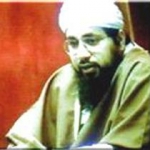 TORONTO -- Concerns are being voiced over the impending visit by a radical British cleric invited to speak to Muslim youths in Canada. One lobby group has
urged the Immigration Minister to refuse entry to the outspoken imam, who has been accused of inciting hatred towards Hindus, Jews and liberal Muslims.
---
Global National Online Extras
»
Lauren McNabb reports
»
Back to globalnational.com
---
Sheik Riyadh ul-Haq, a former cleric at one of Britain's biggest mosques, is scheduled to speak to Muslim groups in Toronto and Montreal in June and July. Critics in Canada say Mr. Haq's hardline views are not welcome here, especially so soon after the arrest of 17 young men on terrorism charges.

David Oulette, director of the Canadian Coalition for Democracies (CCD), said Immigration Minister Monte Solberg should refuse Mr. Haq entry on security grounds if the federal government is serious about ending the radicalization of young Muslims.
"The problem is that this sheik has a history of radical discourses that incite hatred toward non-Muslims, speaking of plots by non-Muslims against Islam and the Muslim world in general [and] glorifying martyrdom in the way of Allah, which could be interpreted as an incitation to violence," he said.

The CCD released clips last week from Mr. Haq's speeches that the group claims demonstrate he glorifies jihad and preaches hatred of Hindus and Jews.
"Of the peoples of the Earth, the ones that hate Muslims the most, the ones who are bitterest of their enmity towards Muslims, the most unrelenting, unforgiving, are the Jews and the mushrikin, idolaters in all their forms," Mr. Haq is quoted as saying.
He has also been criticized in the United Kingdom for appearing to support suicide bombers.
"He's is a nasty piece of work," said Tarek Fatah, host of the weekly television program The Muslim Chronicle. He warned that such conferences as the ones where Mr. Haq is scheduled to speak are dangerous because they often mix politics and religion.
"All he will do [is] create doubt in the minds of young people [as to] whether Canada, as a society, is a viable place for Muslims to live in. He's going to make insinuations against gender equity, about same-sex marriage," Mr. Fatah predicted.
A spokeswoman in Mr. Solberg's office said the Minister cannot discuss specific cases of individuals who may wish to come to Canada.
"If a visitor to Canada publicly incites hatred while here, they can be arrested and prosecuted under our Criminal Code," the spokeswoman said.
Mr. Haq is scheduled to speak at the Guidance conference in Montreal in late June, and the Youth Tarbiyah Conference in Toronto in early July. The Youth Tarbiyah conference is being organized by the Islamic Foundation of Toronto.
Lotfi Bouamrane, a student helping to organize the Montreal event, has attended three of Mr. Haq's lectures and said he usually speaks on spiritual topics.
"In reality, I would say it's even the opposite," he said of the critics' claims. "[The speaker is] usually someone who is very spiritual and talks on topics related to ethics ... quite far from politics."
Mr. Haq is expected to speak about the importance of prayer, children's education and family relations.
Salam Elmenyawi, president of the Montreal Muslim Council, is also slated to speak at the conference.
Britain's Cabinet Secretary recently withdrew an invitation that would have allowed Mr. Haq to celebrate the Muslim festival of Eid at Whitehall. Officials said the invitation was "an unfortunate oversight," according to The Times of London.
Mr. Haq left Birmingham Central Mosque three years ago after becoming involved in a sex scandal that led to a drive-by murder. He was questioned about the murder but not charged. The Sunday Mercury reported that during court hearings related to the murder, it was revealed Mr. Haq had secretly married a second wife.
The cleric also drew attention after the Sept. 11, 2001, terrorist attacks by accusing the British government of "whipping up suspicion" against Muslims on the "flimsiest excuse." He also said British Prime Minister Tony Blair was "gung-ho" to bomb Afghanistan.
In Friday prayers after the 9/11 attacks, Mr. Haq urged Muslims to be skeptical of Mr. Blair and U.S. President George W. Bush "when they say this is not a war against Islam."
"My conclusion was that I don't believe them," Mr. Haq told the New York Times. "Their actions belie their claim because they are bombing Muslims in Afghanistan, a totally ravaged country.
"They say they are not against Muslims, but Blair has participated in campaigns against Sudan, Iraq and Afghanistan, and all three are Muslim countries."
globalnational.com