12 May 2006
Video calls for 'sea of blood'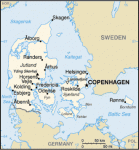 A VIDEO by an al-Qaeda member posted on the Internet overnight calls on Muslims to attack Denmark, Norway and France for publishing cartoons of the Prophet Mohammed.
"Muslims avenge your Prophet .... We deeply desire that the small state of Denmark, Norway and France ... are struck hard and destroyed," said Libyan Mohammed Hassan, who escaped from US custody at Bagram airbase in Afghanistan last July.
"Destroy their buildings, make their ground shake and transform them into a sea of blood," said Hassan, dressed in military fatigues and a black turban, and holding an assault rifle.
Hassan, also known as Sheikh Abu Yahia al-Libi, was one of four Arab terror suspects who broke out of the high-security detention facility at Bagram, the main US military base in Afghanistan.
It was unclear when the 35-minute video, produced by al-Sahab, a media organisation close to Al-Qaeda, was recorded.
Video: Attacks Thwarted Since London Bombings
Advertisement:
The posting of the video comes three week's after al-Qaeda leader Osama bin Laden's call in a video to boycott products from the US and European countries which supported Denmark over the publication of the cartoons.
Earlier this year, the cartoons, including one showing the prophet with a bomb-shaped turban, sparked violent protests by Muslims worldwide after they appeared in Danish and other European newspapers.
Muslims consider any image of the prophet to be blasphemous
Copyright 2006 News Limited. All times AEST