06 March 2017
Muslim Man charged with murder after woman, 80, was found dead at an allotment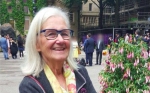 A man has been charged with the murder of an 80-year-old woman whose body was found in a garage at an allotment.
Rahim Mohammadi, 40, of Goldsmith Row, east London, was charged on Sunday with the murder of Lea Adri-Soejoko, the Metropolitan Police said.
The pensioner's body was discovered on Tuesday in Colindale, north-west London, in a lock-up store at the allotment where she was secretary.
The 80-year-old was previously described by police as a "pillar of the community".
Locals suggested last week that Mrs Adri-Soejoko had been strangled.
She moved to Britain from Belgium in 1966. Police said at the time her body was found that she was "very active and very well known in the area, always at her allotment. A pillar of the community. She was a mother and grandmother".
She had been due to attend a "gardening and horticulture" meeting on Monday evening but had failed to turn up, police said last week.
The family of Mrs Adri-Soejoko, who was also known by her maiden name of Hulselman, said she was "vibrant and happy, fit and healthy".
In a statement, they said: "She was a person who stood for the words community, unity, tolerance and love for your neighbour.
"A matriarch, a woman who championed the underdog and did not tolerate prejudice of any kind."
Mohammadi will appear on Monday at Wimbledon Magistrates' Court.
Police said inquiries continue.