24 February 2017
VIDEO: Islamic State calls on followers in Egypt to slaughter Christians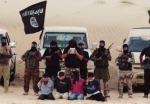 In a newly released 20-minute video, ISIS' media wing in Egypt encouraged fellow jihadists to terrorize and kill Christians across the country.
Around 10% of Egypt's population identify as Christians and most adhere to the Coptic Orthodox branch of Christianity. The minority is frequently targeted by terror attacks from either ISIS or the Muslim Brotherhood.
Generally, the Copts tend to support the Egyptian Army which has yet to halt the continuous Islamic State raids that plague the Sinai desert.
The full Islamic State video, titled 'Kill all the Kuffar', can be found below but is likely to be taken down by YouTube in the hours to come: https://www.almasdarnews.com/article/video-islamic-state-calls-followers-egypt-slaughter-christians/