22 January 2017
Migrants on trial for 'torching refugee housing after food was served during Ramadan'
TWO migrants are on trial for arson after allegedly torching their own refugee housing in a protest at food being served during Ramadan.
The men, 27-year-olds from Morocco and Algeria, are accused of setting fire to the housing facility in a former exhibition hall in Dusseldorf, Germany.
In the fire on June 7 last year, 28 people suffered from smoke poisoning when the hall on Dusseldorf's fairground that housed about 150 migrants burned to the ground.
Prosecutors say the Algerian laid the fire, aided by the Moroccan.
The Algerian is said to have poured a bottle of vodka over a mattress in a vacant living room in the rear of the building and then lit it.
Only the quick response of caretakers and residents prevented there being any deaths or serious injuries.
Prosecutors say the two Muslim migrants were angered by the fact that food and drink were served in the morning and at noon, even though the Muslim fasting month of Ramadan had begun the day before.
The man had decided to light the fire after an argument in connection with the issue of lunch, it is alleged.
The Algerian has been in custody since he was arrested at the crime scene.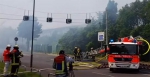 The Moroccan was also arrested on the spot but has been free since August.
The prosecutor's office had charged the accused with GBH and "particularly" serious arson charges, but the Dusseldorf court has downgraded the charges to "serious arson".
Charges were downgraded in severity because there were no serious injuries or deaths despite the fire quickly engulfing the whole building.
The two migrants can still get a prison sentence of up to 15 years. The criminal charges, however, could still change during the course of the proceedings.
Even if they are found guilty, the court cannot order the deportation of the two men back to their northern African countries as this is a separate decision taken by separate bodies.
Local media reported that the German authorities are watching the case closely since they proposed making the deportation of criminal offenders, especially those from Northern African countries, a top priority.