« South Dakota: Muslim 'Refugee' Sexually Assaults Disabled Woman Days After Arriving in US | HomePage | Seven migrants arrested after a sleeping homeless man was set on fire on Christmas Eve at a Berlin subway station »
08 January 2017
Michelle Obama to Muslims, immigrants: 'This country belongs to you'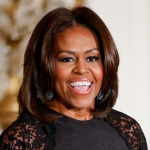 First Lady Michelle Obama became visibly emotional on Friday as she spoke to youth about pursuing higher education. It was her final speech as First Lady of the United States. C-SPAN
WASHINGTON
In her final speech as first lady on Friday, Michelle Obama singled out young immigrants and Muslims, many of whom express apprehension about President-elect Donald Trump.
"Do not ever let anyone make you feel like you don't matter, or like you don't have a place in our American story — because you do," she said. "Know that this country belongs to you, to all of you. From every background and walk of life. If you or your parents are immigrants, know that you are part of a proud American tradition . . . that has made us the greatest country on Earth."
Religious diversity is "not a threat to who we are," she said, "it makes us who we are."
On the campaign trail, Trump called for a ban on Muslims entering the U.S. and spoke about requiring them to register.
"Whether you are Muslim, Christian, Jewish, Hindu, Sikh . . . I want our young people to continue to learn and practice those values with pride," the first lady said.
Obama became visibly emotional as she also encouraged young people to use their education to move the country forward.
"Don't be afraid. Be focused. Be determined. Be hopeful. Be empowered," she said, her voice breaking. "Lead by example with hope, never fear. And know that I will be with you, rooting for you and working to support you for the rest of my life."
Obama made her remarks at a White House event honoring the 2017 school counselor of the year. She started the tradition of honoring the school counselor of the year in 2015, as part of her Reach Higher initiative, which encourages post-secondary education. She has said she will continue working on education issues after she leaves the White House.
The 2017 winner, Terri Tchorzynski, from Battle Creek, Michigan, introduced the first lady as "our school counselor in chief."
Obama touted the administration's work in education, saying that it had made the largest investment in higher education since the GI Bill. She also highlighted advances in making college affordable, funding for school counselors and rising high school graduation rates.
Obama thanked educators for their work supporting young people across the country.
"No matter where they're from, no matter how much money their parents have, no matter what they look like, or who they love or how they worship, or what language they speak at home, they have a place in this country," she said.
"Being your first lady has been the greatest honor of my life. And I hope I've made you proud," she said in closing, receiving a standing ovation from an audience that included Education Secretary John King, his predecessor Arne Duncan, actress Connie Britton, TV host Andy Cohen, and music artists Usher and Kelly Rowland.