02 December 2016
Muslim drug dealer jailed for selling meth and cocaine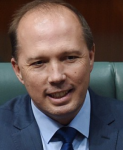 Avoids being deported by claiming he is GAY - after he married an Australian woman just to get a visa



A Muslim drug dealer who married an Australian woman in an effort to secure a visa has avoided being deported after convincing a tribunal he is in fact gay.
The Federal Government tried to have the unnamed man deported after he was found guilty in 2011 of dealing 'large quantities' of ice and cocaine.
He had earlier attempted to remain in the country by getting married in the hope of being granted a spousal visa, but when that tactic failed he changed his tune.
Incredibly the sexually-confused criminal was allowed to remain in the country after convincing the Administrative Appeals Tribunal in Sydney he was gay and he'd be persecuted if he returned to his home country, The Daily Telegraph reported.
The tribunal's deputy president Bernard McCabe said the man was roped into a 'hectic lifestyle which involved clubbing and drug use every weekend' shortly after arriving in Australia.
However hidden beneath his happy marriage was what Mr McCabe called 'a secret'.
'He said he had been grappling with [the secret] for some time — he was attracted to other men,' Mr McCabe said when handing down his ruling.
Without telling his wife the man began partying regularly at gay nightclubs in Kings Cross and Oxford Street.
The tribunal heard from a friend of the man that his marriage was a hoax to ensure he received his visa.
'The marriage to Mary was part of a show for the benefit of the immigration authorities so (he) would qualify for a spouse visa,' a friend of the man said.
However immigration authorities denied his application, leading the man to go with the story about being gay in a last ditch effort to remain in Australia.
In 2011 the man spent two years and eight months in jail for his drug dealing exploits.


Read more: http://www.dailymail.co.uk/news/article-3992990/Muslim-dr...
Follow us: @MailOnline on Twitter | DailyMail on Facebook