27 January 2013
Accused took his mask to 'peace' protest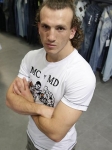 A BOXING champion charged with beating a police officer with a 2m pole during last year's Muslim riot in central Sydney thought the protests would be "peaceful" - but decided to bring a balaclava along anyway.
Ahmed Elomar, 29, a two-time national boxing titleholder, was yesterday refused bail in the Supreme Court on charges stemming from the violent scenes in the city last September.
The father-of-three allegedly hit a constable with a flagpole during the violence and also threw a "missile" at police, who he is then accused of attacking as officers tried to arrest him.
The court was told that in an interview with a doctor after the incident, he claimed he only went to the Muslim protest because "it was meant to be peaceful".
Justice Robert Hulme said it was "very concerning" that Elomar had gone to the public gathering carrying a full-face balaclava, which he was later seen wearing.
"You wonder why he would do that if (the protest) was peaceful," the judge said.
Elomar's lawyer Leah Rowan said Elomar was suffering early-onset dementia as a result of numerous head injuries he had suffered in the ring.
She said this left him "susceptible to outside influence".
"Without treatment his condition is possibly going to deteriorate, but it is not going to improve, that goes without saying," she said.
Ms Rowan said, if granted bail, Elomar would live under the "watchful eye" of his mother - who was in court for the bail hearing - and also with his wife and children.
Crown prosecutor Daryl Gunter said Elomar had been "anything but peaceful" during the protests.
"There is a real need to protect the public from a man who appears to be prepared to take the law into his own hands," he said.
Justice Hulme refused Elomar bail after noting he had a history of breaching court orders and had even been charged again - with possessing a contraband mobile phone - while being held in custody since the riot.
Elomar appeared on a video link from Long Bay jail sporting a beard and with his long hair drawn back in a ponytail. He has been in custody since his arrest in September and has not entered a plea to the most serious charge, of wounding an officer, which carries a 14-year jail term.
Elomar was initially accused only of affray, but additional charges were laid after police reviewed video footage of the violent clashes, which followed the posting of an anti-Islamic film on YouTube. Elomar returns to court next week.