01 January 2013
Libya church blast kills two Egyptians: embassy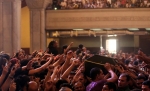 AFP - An explosion rocked a Christian Coptic church near the western Libyan city of Misrata on Sunday, killing two people and wounding two others, all of them Egyptians, an Egyptian diplomat told AFP
"Two Egyptians were killed and two were wounded," said the diplomat at the Egyptian embassy in Tripoli who declined to be named.
"The church explosion was in the town of Dafniya in Misrata (province). The consul went directly to Misrata to find out the details. We still don't have clear information," the diplomat said.
Earlier, a security official said one Egyptian was killed and three others were wounded in the blast at a Coptic church. The Egyptian diplomat said that one of those hurt in the explosion died later at the hospital.
Residents said the explosion took place in the early afternoon at a Coptic church in Dafniya, a Mediterranean town 30 kilometres (18.5 miles) west of Misrata, where brigades made up of former rebels hold a major checkpoint.
http://www.france24.com/