01 January 2013
'Attack on church in NE Nigeria kills 15'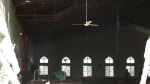 Gunmen have raided a church service in a village in Nigeria's volatile northeast and killed 15 people, a rescue official says.
"We received information from our personnel in Chibok that some attackers stormed a church during Sunday service yesterday and killed 15 people," AFP quoting Mohammed Kanar, the regional coordinator for the National Emergency Management Agency, as saying on Monday.

He later specified that the attack was carried out on an evangelical church in the Kyachi village outside Chibok.

Nigeria's military officials, however, denied the taking place of the attack, with a spokesman issuing a statement, which said that "all my enquiries indicated that nothing like that happened."

The alleged attack followed an assault on Friday, in which armed men killed 15 Christians by slitting their throats in the village of Musari in the northeastern Borno state.

And during a Christmas Eve service last week, gunmen attacked a church in the Yobe state -- also in the country's northeast -- killing six people, including the pastor, before setting fire to the building.