12 December 2012
Court sentences Coptic activist to three years for insulting Islam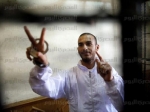 A Cairo court sentenced activist Alber Saber to three years in prison for insulting Islam Wednesday.
Marg Misdemeanor Court found Saber guilty of "contempt of religion" after he allegedly posted online parts of the amateur film "Innocence of Muslims" that had sparked protests around the Muslim world, state-run news agency MENA reported.
Prosecutors also accused Saber of running a Facebook page that "promoted extremist ideas" and atheism, as well as insulting the divine, prophets and Islamic and Chirstian religious rites and describing God as weak.
Amnesty International called the ruling "an outrageous assault on freedom of expression." The organization noted that verdict comes just days before a national poll on a new constitution which, if passed, will ban criticism of religion and individuals — opening the door to many more cases like this one.
Defense lawyer Hamdy al-Assiouty described the verdict as difficult, saying that the court ruling was a continuation of the "invalid" legal procedures conducted throughout the case, beginning with the police and public prosecutors.
"I expected this verdict," he said. "It was clear from the way that the court treated the case — the difficulty the defense had in obtaining case documents and the obstacles placed in our way while we were trying to raise a defense — that it would issue such a verdict."
Another member of Saber's legal team, lawyer Ahmed Ezzet, said that the verdict is "extremely unjust." Like Assiouty, he emphasized that the procedures followed in the case and the evidence presented against Saber are all invalid.
Ezzet added that Saber was supposed to be released pending an appeal after his representatives paid LE1,000 bail, but that the court instead ordered him returned to prison.
Ezzet expects that Saber will be released after the weekend and expects his appeal to be heard in two to three weeks.
Amnesty International and local human rights organizations have called for Saber's release throughout the case.
"Alber Saber Ayad is a prisoner of conscience, detained solely for peacefully exercising his right to freedom of expression and should be released immediately and unconditionally," Amnesty International said in a statement in October.
Insulting Islam is considered a crime in Egypt under Article 98(f) of the Penal Code, which stipulates "Confinement for a period of not less than six months and not exceeding five years … shall be the penalty inflicted on whoever makes use of religion in propagating, either by words, in writing, or in any other means, extreme ideas for the purpose of inciting strife, ridiculing or insulting a heavenly religion or a sect following it, or damaging national unity."