12 December 2012
Christian Prisoners Still in Uncertainty after Ten Months!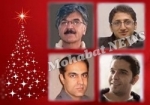 Despite their families and attorney's follow up efforts, five Christian converts are still being held in Adel-Abad prison in Shiraz in a critical condition with their fate unknown.
According to a report received by Mohabat News, it is now 10 months since a number of Christian converts were arrested in Shiraz. Five of those arrested were tried on Monday, October 15, 2012, at branch 3 of the Revolutionary Court in Shiraz. The trial was judged by Mr. Rashidi who finished the court session without issuing any specific verdict. The five Christians, Mojtaba Hosseini, Mohammad-Reza Partoei (also known as Kourosh), Vahid Hakkani, Homayoun Shokouhi, and his wife Fariba Nazemian, are still being held in prison, awaiting a decision to be made for them by the authorities.
It is also being reported that because of his disagreements with the Christians' attorney, the judge is pressuring their families to discharge their attorney. At the same time the Iranian authorities are also pressuring these Christians and their families through many ways. The Iranian authorities keep the Christians' case in suspension and defer their court sessions regularly for various reasons. This, in particular, puts huge mental pressure (or torture in a sense) on the Christians and their families. Also, they are denied the right to visit either their family members or attorney and they are not given temporary leave permission. They can just make short phone calls to their families for a limited number of times. This is only a small portion of the pressure the Islamic government of Iran is imposing on these Christian prisoners and their families.
Quoting some judicial authorities, the families of these Christians were told that no bail would be accepted to secure their temporary release.
Also, a report received by Mohabat News indicates that some seven or eight Christian prisoners in Adel-Abad prison were transferred to a newly built ward called, "the edification ward". This ward is the least equipped ward in the prison. The ward does not even have a heating or air conditioning system, and as winter approaches its washrooms are in an inappropriate condition.
There are reportedly four non-Trinitarian Christians among those being held in Adel-Abad prison. The non-Trinitarian Christians (also known as Branhamists) were arrested on October 12, 2012, following an attack by the security authorities in Shiraz.
It is said that the "edification ward" is used to keep prisoners who are charged with the same offense.
On the other hand, after ten months in prison and going through numerous interrogation sessions, the prison authorities still summon these Christian prisoners from time to time, and order them not to express their thoughts, especially their Christian faith, under any circumstances.
Although no legal procedure was followed in handling these Christians' case, the Iranian judicial authorities have announced their accusations as follows, "creating illegal groups, participating in house church services, propagating against the Islamic regime and desecrating Islamic holy figures through evangelism."
The Islamic Republic authorities make every effort to minimize the religious aspect of such cases and add political accusations as a means to achieve their goal, which is to convict these Christians of serious offenses. Bringing up the "desecration of Islamic holy figures" accusation is evidence that they seek to treat these Christians' case more severely.
It should be remembered that the security authorities identified and raided the home of a Christian convert on February 8, 2012, where Christians had gathered to hold their house church service. Christians who were in the house to worship were insulted and arrested.
The speech of the Iranian Supreme Leader, Ali Khamenei, two years ago in Qom, was the starting point of intensifying pressure on religious minorities, especially Christians. Many churches have been closed down and a number of Christian historical monuments destroyed since then. Services in some official churches were banned and security authorities raided the homes of many Christians, preventing them from holding worship meetings.
It should be mentioned that harassment and discrimination against religious minorities has been a major Human Rights violation issue by the Islamic regime of Iran, during the last 30 years.
As Christmas approaches, many Iranian Christians remain in prison where they suffer for their faith in Christ away from their families.