12 December 2012
Arab Spring Countries More Corrupt Under Islamist Governments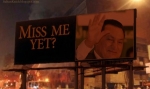 Islamist thugs are beating and assaulting protesters in Tunisia and Cairo. And the Arab Spring, recently the darling of media pundits, now looks positively toxic.
Among other things, Arab Spring countries appear to actually be more corrupt under their new Islamist governments than they were before.
Transparency International's (TI) 2012 Corruption Perceptions index ranks countries from 0 to 100 based on perceived levels of public sector corruption — 100 meaning no perceived corruption. Egypt dropped six places and now ranks 118th out of 176 countries.

Following Mubarak's downfall and Egypt's first democratically elected president, Mohamed Morsi, hopes were high. But now, after Morsi's power grab yielding him near absolute power and a controversial draft constitution in the works, anger has once again consumed Cairo's streets.

"We know that frustration about corruption brought people out onto the streets in the Arab world," TI's Middle East and North Africa director, Cristoph Wilcke, told Reuters. A democratic transition has not easily come to Egypt. Morsi is now facing allegations similar to those that toppled Mubarak's regime, and protesters are now demanding Morsi be held accountable and step down.

"As far as we can tell, very little has happened on the ground … as far as putting in place systems that we know work to prevent corruption," Wilcke said.

Tunisia fell two places, now ranking 75th, and Morocco fell eight slots to 88th out of 176 countries.
But I'm sure things will be better under full-on Sharia.