06 December 2012
NY synagogue bomb suspect pleads guilty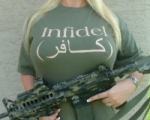 An Algerian immigrant charged with plotting to blow up New York City synagogues by posing as a Jew has pleaded guilty.
Ahmed Ferhani was one of two men arrested in a May 2011 weapons-buying sting.
Manhattan state Supreme Court Justice Michael Obus said he planned to sentence Ferhani to 10 years in prison, four years fewer than prosecutors had wanted.
Sentencing was scheduled for January 30.
Authorities called Ferhani a homegrown terrorist out to avenge what he saw as mistreatment of Muslims around the world.
Ferhani envisioned posing as a Jew so he could infiltrate a synagogue and leave a bomb inside, prosecutors have said in court documents.
At a meeting to arrange the gun buy, Ferhani said he needed the weapons 'for the cause,' according to a court complaint.
His lawyers initially portrayed him as a mentally unstable man entrapped by police.
Most terror cases are federal, but Ferhani and co-defendant Mohamed Mamdouh were charged under a state law passed shortly after the September 11 2001 terror attacks.
Ferhani, 27, and Mamdouh were arrested after Ferhani bought three handguns, ammunition and an inert grenade from an undercover detective, police said.
Mamdouh, a 21-year-old American citizen of Moroccan descent, had been dropped off nearby before the buy and was arrested soon afterward, according to police. He has pleaded not guilty.
A grand jury declined to indict the two men on the initial top charge against them, a high-level terror conspiracy count. But they were indicted on other terror and hate crime charges.
Ferhani's lawyers have said he has been institutionalised for psychiatric problems as many as 30 times.