02 December 2012
Concerns rise over alleged links between Boko Haram and British Islamic charity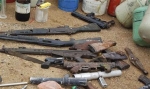 Alleged links between Nigerian extremist Islamist group, Boko Haram and British charity organization alarms UK authorities
The UK authorities are looking into an alleged possible link between a British charity organization and the Nigerian Boko Haram extremist Islamist group.
The UK Charity Commission (CC) has confirmed, for the first time, that it is talking to different departments, regarding allegations that Al Muntada Al Islami Trust is providing financial support to the Boko Haram group.
"We confirm we have been contacted by the Foreign and Commonwealth Office (FCO) and the Metropolitan Police (MP) in relation to this matter," the CC spokesperson told Ahram Online.
This confirmation reflects the UK authorities' growing concern about possible relations between London-registered charities and Islamic extremism.
However, she added, that her organization is not investigating the charity Al Muntada Al Islami Trust.
The CC is very keen not to give an impression that there is no legal or formal investigation on the charity's behaviour.
"We are engaging with the charity's trustees", the spokesperson said.
She confirmed that the trustees of Al Muntada Al Islami Trust "have and continue to fully cooperate with us."
Ahram Online understands that the MP and the FCO are concerned about previous media reports linking Al Mundtada Al Islami Trust and Boko Haram.
The group's name means "the education is forbidden" and is seen in Europe as an Al-Qaeda-affiliated group.
"We can confirm that information has been shared with the Charity Commission and the Metropolitan police," an FCO spokesperson told Ahram Online.
She added that the FCO are unable to comment further.
FCO is responsible for the Secret Intelligence Service (SIS), known as MI6 which collects Britain's foreign intelligence. It deals with immediate threats to the UK such as terrorism.
The MP said they are following the issue, but its spokesman told Ahram Online that there is no criminal investigation into it.
He added that the MP is still waiting for more information from the CC.
Al Mundtada Al Islami Trust denies any relation with Boko Haram and confirmed that any reports about any involvement with the groups are "unsubstantiated allegations."
"The Trust has never had any correspondence with Boko Haram; [we] never offered any financial assistance or had any contacts of any kind with this organization, or any other alleged militant groups in Nigeria or any other country," Al Mundtada Al Islami Trust added in a statement.
When it was established 25 years ago, Al Mundtada Al Islami Trust said it "provides education cultural, social and spiritual activities" in England and Wales.
It also runs a primary school, secondary girls school, Arabic courses, Qur"an recitation classes, summer school activities and youth activities, conferences, counselling, and organises pilgrimage trips.
Moreover, in its annual reports to the CC last year, the Al Mundtada Al Islami Trust confirmed its income at £1,393,653 ($2,236,563) while its expenditure was £ 1,163,707 ($1,867,541). The Trust has 55 employees.
Al Mundtada Al Islami Trust said it "condemns and denounces terrorism in all its forms and whatever the source."