22 November 2012
Michigan church bans Islamic prayer from service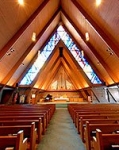 Choral director Jeffrey Cobb told his singers and orchestra – roughly 180 local adults and teens drawn from college, a high school, and churches – that a pastor barred an Islamic prayer from the piece they planned to sing.
Their concert was to be performed the next day, on Veterans Day, at First Congregational Church in Traverse City for the annual Mel Larimer Concert Series.
Pastor David Walls and other church officials wanted nothing to do with the Islamic Call to Prayers portion of the performance. They did not want to offend their congregation and military veterans they planned to honor that day, church leaders said.
A shock wave rippled through the choir during their tune-up at the church, and no one took the jolt harder than Alya Nadji, 16, a Muslim and member of the Traverse City West High School Chorale.