22 November 2012
Blackburn school will close if Islamic primary takes all pupils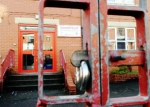 PARENTS and governors are gearing up to fight to save a Blackburn school facing closure to make way for East Lancashire's first state-funded Islamic primary.
Sacred Heart RC Primary School is likely to close because the opening nearby of the Olive Islamic School for more than 600 pupils will leave it with too many empty desks.
It has been announced that Blackburn with Darwen council and the Tauheedul Foundation have agreed the land transfer for the 'free' junior and infants to go with its boys and girls' high schools.
This forced the borough into a major review of school provision in Corporation Park, which is expected to recommend the closure of Sacred Heart, set adrift by the Roman Catholic Diocese of Salford in 2010.
Now governors' chairman Nick Kennedy has warned the council that parents will oppose any closure plans.
Most mums outside the school this week made clear they would support the fight to save Sacred Heart.
Naheeda Ahmed said: "I want to keep this school. I would protest to the council if they tried to close it."
Her friend Shazia Shafiq, who has three daughters at Sacred Heart, said: "I want to save this school. I don't want my children moved, I would fight to save it."
Angela Smith, who's five-year-old attends, said: "This is a good school. I will protest and sign petitions to keep it open."
Rehana Dilshad, who wants her two-year-old daughter to follow her three siblings at Sacred Heart, said: "I want to save this school and will fight for its future."
The new Olive Islamic school will welcome pupils of all faiths and backgrounds in the area, including those from Sacred Heart where 98 per cent of its 210 pupils are Asian Muslims.
This is understood to have been a condition of the council giving the go-ahead for its permanent home on its new Preston New Road campus.
Education Secretary Michael Gove approved the 'free school' status and government cash support in July.
The school will launch at the current Tauheedul Girls High site in Bicknell Street, in July 2013 when it moves to the former Beardwood site.
From September 2014, the primary will move there, while the new Tauheedul boys will move from Little Harwood to the YMCA building, Clarence Street, Blackburn.
This leaves too many places for five to 11-year-olds in Corporation Park after the £3 million extension of Wensley Ford Primary and the £7 million rebuilding of St Silas's Junior and Infants.
The review of school organisation in the area will consider the closure of Sacred Heart after the Diocese of Salford withdrew support 2010 because only six pupils were Catholics.
Ward councillors John Wright, Abdul Rehman and Arshid Mahmood said: "We welcome the provision of a new school in addition to the extension of Wensley Fold and the new build at St Silas's. The new Olive School and the free school application from QEGS, if successful, will create many addit- ional places.
"This will raise some uncertainty for parents at our existing schools. This is particularly the case at Sacred Heart."
Kate Hollern, leader of Blackburn with Darwen Council, said: "Given the Diocese's decision, we have been working hard in the community to ensure there was appropriate primary school provision in the area."
She added that a number of options would be considered and the priority would be minimum disruption for pupils at Sacred Heart. Mr Kennedy added: "No decisions have been taken. We have been in private talks with the council over the future for some months. A number of options have been discussed including our closure. To close a good, popular and full school the council must have a robust and thorough exploration of the reasons to do so. That is what I am fighting for.
"Any proposal to start consultation on closure would have to be taken in public by the executive board of the council and I think there would be a lot of our parents at that meeting supporting their school."
Borough Tory group leader Mike Lee said: "In any reorganisation it would be preferable if local children could go to local schools. Local schools, including The Olive, should accept children of all religions and backgrounds.""
Kam Kothia, Tauheedul Trust chair, said: "If Sacred Heart closes we would welcome its pupils and potential pupils to the Olive School."