18 November 2012
NYC man sentenced to life for role in foiled 2009 suicide-bomb plot against subways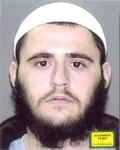 A Bosnia-born U.S. citizen has been sentenced to life behind bars for his role in a foiled suicide-bomb plot on New York City subways in 2008.


Adis Medunjanin (ah-DEES' may-DOON'-yah-neen) received the sentence Friday in federal court in Brooklyn.
Prosecutors had accused Medunjanin and two high school classmates of receiving al-Qaida training in Pakistan before agreeing to strap on backpack bombs for a strike a few days before the eighth anniversary of the Sept. 11 terror attacks.
Admitted mastermind Najibullah Zazi (nah-jee-BOO'-lah ZAH'-zee) and another man both pleaded guilty and testified against the 28-year-old Medunjanin.
Medunjanin's defense told jurors he only intended to fight with the Taliban, not become an al-Qaida operative.


Read more: http://www.foxnews.com/us/2012/11/16/nyc-man-faces-possib...