12 November 2012
Majority of US Muslims Voted for Obama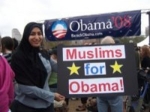 CAIRO – Making a new voting record in US elections, the majority of American Muslims have voted for President Barack Obama re-election last Tuesday, emerging as a voting bloc that has played a pivotal role in swing states.
"The fact that more than 95 percent of Muslim respondents went to the polls is a clear indication that they are fully participating in our nation's political process and are part of the fabric of America," Nihad Awad, National Executive Director of the umbrella Council on American-Islamic Relations (CAIR) said in a statement obtained by OnIslam.net.
"Muslim voters in swing states such as Florida, Virginia and Ohio seemed to have played a critical role in tipping the balance in the president's re-election victory."
Obama, America's first black president, won a second term in office on Tuesday after winning the 270-vote threshold in the Electoral College.
Obama won 303 electoral votes against 206 for Romney.
The survey, conducted by an independent research firm on behalf of CAIR of more than 650 American Muslim voters, showed that 95.5 of the Muslim voters said they went to the polls on November 6.
The survey found that 85.7 percent cast their ballots to re-elect President Obama.
Only 4.4 percent of respondents said they voted for Republican candidate Mitt Romney, while more than four percent of respondents declined to say who they voted for.
A small margin of only 2.2 percent of respondents said they voted for Libertarian candidate Gary Johnson.
The same percentage (2.2) of respondents said they voted for Green Party candidate Jill Stein.
These results support the findings of a pre-election CAIR survey of 500 Muslim voters that rated jobs and the economy, education, health care policy, Medicare and Social Security, and civil rights as the top issues.
That survey indicated that 1 in 4 Muslim voters remained undecided about their presidential pick.
"It appears that undecided Muslim voters broke decisively in President Obama's favor at the polls," said CAIR National Legislative Director Corey Saylor.
Saylor also expressed appreciation that a number of anti-Muslim candidates were rejected by voters nationwide.
Pivotal Role
The 2012 US presidential election showed Muslims as a rising voting bloc, especially in swing states.
CAIR survey showed states with the highest number of respondents were California, New York, Texas, Virginia, Illinois, Florida, Michigan, Maryland, Pennsylvania, New Jersey, and Ohio.
Of those who voted, 8.3 percent said they did so for the first time.
As 41.5 percent said they consider themselves Democrats, only 7.4 percent said they are Republican.
Meanwhile, 40.6 percent of respondents said they consider themselves politically independent.
In 2008, nine of every 10 American Muslim voters supported the election of Obama.
Though there are no official figures, the United States is believed to be home to nearly six to eight million Muslims.
Although the Muslim population in the US may be small, the voting power of this group could become significant in a close election as a significant number of US Muslims live in key swing states such as Michigan, Ohio, Florida and Virginia