29 October 2012
Sheep Stolen Across Europe as Muslim Butchery Festival Approaches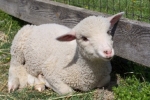 As Muslims prepare to take twisted pleasure in the brutal slaughter of innocent animals, a spate of sheep thefts has been reported across Europe.
POLICE are warning livestock owners to be on their guard against sheep rustlers after 20 animals were stolen in Withiel.

Officers say organised gangs are again targeting the area, after a spate of sheep thefts were committed last year within a ten-mile radius of Bodmin.

The latest farmer to lose livestock is David Harris, who keeps 300 sheep on land in the Withiel parish.

Thieves stole 20 of his sheep from two fields which he estimated to be worth £3,200 at market.

Mr Harris said: "We check the sheep twice a day, but it is impossible to count every one of them, but now we will certainly be improving security in the future.

"As well as losing these sheep, you have to take into account the 30 or 40 lambs they would have produced, so you are talking about quite a few thousand pounds – it's a big loss."

Mr Harris, 65, has kept sheep for more than 25 years, and says it is the first time any of his livestock have been stolen.

"I suspect they have been taken upcountry and slaughtered at a private abattoir because they were all tagged and a licensed slaughterhouse wouldn't have had anything to do with them."
Source: ThisIsCornwall H/T: Bluepanic

At Isère in France an entire flock of sheep was stolen.
A flock of 130 lambs penned in an isolated field in Isère was stolen last Wednesday night. The livestock, which was in an electrified enclosure far from any livestock in Dizimieu, in Isère, was loaded "in a few minutes on to two lorries", indicated the officer of the Crémieu brigade, Stéphane Coignard, specifying that tyre tracks have been detected on the scene.

The stock raiser, for whom the damage is estimated at 20,000 euros, had bought the sheep three weeks again in Spain in order to sell them for the Eid festival which starts on Friday.

This theft was perpetrated so that the lambs could be "slaughtered during the festival of Eid on the local market, we are 100% certain," said the officer. "There are illegal abattoirs. The sheep can be kept in a hangar without being seen," he added when the lambs are ringed.