29 October 2012
Nigeria: Kaduna Suicide Bomb Blast - 90 Percent of Victims Are Children - Bishop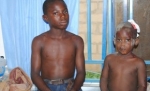 Kaduna State was yesterday thrown into another round of pandemonium following a suicide bomb blast that rocked the Saint Rita's Catholic Church at Ungwa Yero in Malali, Kaduna North LGA. The church has a capacity to accommodate over 1,000 worshipers.
The blast, which affected mostly women and children, killed at least 15 people and severely injured about150 including the parish priest, Rev. Fr. Bonet Micah.
The victims were rushed to several hospitals within the Kaduna metropolis. Although details of the numbers could not be ascertained officially, our correspondents gathered that three dead bodies and 35 injured persons were taken to 44 Army Reference Hospital, four bodies and over 88 injured persons were taken to Barau Dikko Specialist Hospital, 14 injured persons were taken to Saint Gerard Catholic Hospital, one dead body and 14 injured persons were taken to Garkuwa Hospital, three injured persons were taken to Giwa Hospital, and two injured persons were taken to Yusuf Dantsoho Hospital.
The location of the church is more or less like a border separating the Kwaru, Badarawa and Ungwa Yero areas; while Christians dominate the Ungwa Yero axis, Muslims dominate the other areas. They are normally flashpoints during any crisis in Kaduna.
LEADERSHIP had reported, prior to the Sallah celebration, that there could be security threats during the Eid-El-Kabir celebration, but a top security operative told our correspondent that all flashpoints had been properly manned across the state.
According to eyewitness accounts at the scene of the blast, the suicide bomber came in a tinted Toyota jeep and was led by a motorcyclist who, apparently, was showing him the way leading to the church.
A security source in Kaduna confirmed that some other people were attacked and killed immediately after the terror attack. The sources said security agents tried to manage the tense situation in order to avert escalation of reprisal attacks.
He disclosed that the attacker rammed his car through the wall and inside the church before the explosion. He stated that five worshipers died on the spot and that four of the seriously wounded parishioners died in the hospital later.