24 October 2012
Birmingham Jihadists plotted to cause maximum carnage in name of Allah, court told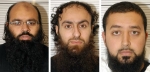 No target was set for the would-be rucksack bombers but they were allegedly recorded bragging about planning 'another 9/11'.


Woolwich Crown Court heard that the 'Jihadists' had plotted to cause "as much carnage as they could in the name of Allah".

The prosecution opened the case yesterday against Irfan Naseer, 31, Irfan Khalid and Ashik Ali, both 27, who deny all the terrorism charges.

The jury was told the unemployed men were secretly recorded by anti-terror cops saying the attack would be bigger than 7/7, which killed 52 people.

The three are charged with engaging in conduct in preparation of terrorist acts between Christmas Day 2010 and September 19 2011.

Pharmaceutical graduate Naseer, from Doris Road, Sparkbrook, is charged with five different offences. He was awarded a degree from Aston University in 2003 and was known as 'Big Irfan or Chubbs'.

Unemployed security guard Khalid, of Timbers Way, Sparkbrook, faces four counts under section five of the Terrorism Act.

Former charity worker Ashik Ali, aged 27, from White Street, Sparkbrook, faces three different offences.

Irfan Naseer and Irfan Khalid, are also alleged to have received terror training in tribal areas of Pakistan in 2009 and again in 2011, where they were said to have been schooled in the use of IEDs, firearms and poisons.

The two men are also accused of recruiting others for terrorism.

The three men are also all accused of trying to coordinate eight suicide bomb explosions in the UK and fundraising for terrorism.

In one secret recording where the men discussed the 7/7 attacks on London, Naseer allegedly said the bombers did not "cause enough damage" and should have used nails as shrapnel to kill more people.

The three men were all arrested in Birmingham last November by officers from West Midlands Police's Counter Terrorism Unit, along with eight other men and one woman. The court heard that police had been watching them since July 2011 and had bugged a VW Passat and Honda Civic car with listening probes as well as Ali's council flat in White Street, Sparkbrook.

Prosecutor Brian Altman QC told the court: "The police successfully disrupted a plan to commit an act or acts of terrorism on a scale potentially greater than the London bombings in July 2005, had it been allowed to run its course. The defendants were proposing to detonate up to eight rucksack bombs in a suicide attack and/or to detonate bombs on timers in crowded areas in order to cause mass deaths and casualties."

Mr Altman added: "These three were the central figures in the plot. Two of them (Naseer and Khalid) had been to Pakistan for training in terrorism in the (FATA) Federally Administered Tribal Areas.

"They sought to share and spread their knowledge in Birmingham. They also recorded martyr videos in Pakistan that would have been released after their deaths."

Describing the defendants as motivated Jihadists, Mr Altman said they had been influenced by the Yemeni-based extremist Anwar al-Awlaki, who was killed in a US drone attack just 12 days after the men were arrested.

The jury were played recordings from al-Awlaki, which the prosecution say were heard playing inside the house in White Street.

The court was told that videos that referred to the 9/11 attacks, the 7/7 London bombings and Osama Bin Laden were also recovered from the men.

In referring to the 7/7 attacks, Naseer is allegedly picked up on recording devices saying the attacks had "gone a bit wrong." He is said to have added: "They didn't do much damage because they had forgotten to put nails in the bombs."

Mr Altman said: "Each made a deliberate decision to become a terrorist following what they believed to be the right path."

He also told the court that the three men had been instrumental in sending four young Birmingham men to Pakistan for terror training.

The secret listening probes also picked up conversations where the three men discussed a plan to fit blades onto a car and to drive them into groups of people, Mr Altman said.

They also allegedly spoke about assault rifles, grenades and chemical mixtures for explosive devices.

The men also bought a sport injury ice pack and were recorded trying to develop a bomb by wrongly thinking it contained ammonium nitrate, the court was told.

Mr Altman claimed the men also talked about opening a Dawah Shop - for those wanting to learn more about Islam - as a "beautiful cover" to recruit people for terrorism.

The jury was told that the finer details of when the attacks would take place and the intended targets had not been discussed before police made the arrests.

The trial continues and is expected to last eight weeks.

Read More http://www.birminghammail.net/news/top-stories/2012/10/23...