22 October 2012
Obama on Libya: 'If four Americans get killed, it's not optimal'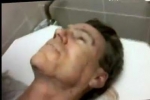 President Obama vowed Thursday to fix any problems that contributed to the deaths of four American foreign service personnel during last month's attack on the U.S. Consulate in Benghazi, Libya, saying that when "four Americans get killed, it's not optimal."
Obama's comments, referring to the Sept. 11 terror attack, came during an interview with Jon Stewart on Comedy Central. The interview, first reported in a White House media pool report, airs Thursday night.
Stewart asked Obama whether the investigation would address communication problems that contributed to confusion about the circumstances of the attack in Benghazi.
"Because I would say, even you would admit, it was not the optimal response, at least to the American people, as far as all of us being on the same page," Stewart said.
"Here's what I'll say. If four Americans get killed, it's not optimal. We're going to fix it. All of it," Obama replied.
"The government is a big operation and any given time something screws up. And you make sure that you find out what's broken and you fix it.
"Whatever else I have done throughout the course of my presidency, the one thing that I've been absolutely clear about is that America's security comes first, and the American people need to know exactly how I make decisions when it comes to war, peace, security, and protecting Americans. And they will continue to get that over the next four years of my presidency."
Since the attack, Republicans have accused the Obama administration of hiding key details such as how and why the attack started. The GOP has also questioned whether a failure to address security concerns at the consulate contributed its vulnerability.
Obama was also asked by Stewart about "confusion" surrounding the Benghazi attack.

The president said his administration wasn't "confused about the fact that four Americans had been killed" in the assault.

"I wasn't confused about the fact that we needed to ramp up diplomatic security around the world right after it happened," Obama said.
"I wasn't confused about the fact that we had to investigate exactly what happened so it gets fixed. And I wasn't confused about the fact that we're going to hunt down whoever did it."

During the wide-ranging interview with Stewart, the president also touted other actions of his administration. Obama said his biggest accomplishments included bailing out the auto industry, ending the war in Iraq, and passing healthcare reform legislation. Obama said he had a "strong story to tell" in making his case for reelection.

If elected to a second term, Obama said he would like to close the prison at Guantánamo Bay. He had vowed prior to his election in 2008 to close the terrorist detention facility.

"I still want to close Guantánamo. We haven't been able to get that through Congress," Obama said.

The president also weighed in on his performance during the first presidential debate against Mitt Romney.
Romney is regarded as the winner of that debate. Obama said he had an "off night" and that the "presentation was not the way it needed to be."

The exchange between Obama and comedian Stewart was also sprinkled with lighter moments. Stewart jokingly asked, for instance, how many times Vice President Biden came into a meeting in a bathing suit.

"We had to stop that," Obama said, continuing the joke. "I gotta say though, he looks pretty good."
— This story was updated after a transcript of the interview with Obama was released.