22 October 2012
Obama Campaign Held Muslim Townhall at Terror-Linked Va. Mosque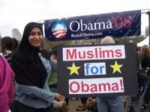 In case you missed this: be warned. It is state approved propaganda in defense of the Obama campaign and poor Muslims. Read at your own risk. via Obama campaign holds Muslim outreach event - POLITICO.com.
The Obama campaign is hosting an outreach event for Virginia-area Muslim Americans on Sunday, according to an invitation obtained by POLITICO.
Brian Moran, the chairman of the Virginia Democratic Party, will represent the Obama campaign as a surrogate at an event in Sterling, Va. at a local community center
It's one of the first real outreach events this cycle by the Obama campaign to a community that is largely overlooked - and sometimes demonized - by both sides of the aisle.
There are more than 2 million Muslim-Americans in the United States, most of Arab, South-Asian and African-American decent.
That's less than 1 percent of the US population, but Muslim voters are concentrated in a number of states and major metropolitan areas - including the Virginia suburbs of Washington D.C.
According to research by Pew, Virginia is among the ten states with the highest number of Muslim Americans - and the only real contested swing state on that list aside from Ohio.
Those pockets of voters - by all indications, likely to vote for Obama - could play a role in a close state like Virginia. President Obama leads among Arab Muslim-Americans in a recent poll by a whopping 75 to 8 percent.
The Obama campaign has always treaded cautiously around the Muslim community - given the false and hysterical rumors that have circulated about Obama's own religious beliefs and background.
Left out, intentionally no doubt, is the All Dulles Area Muslim Society (ADAMS) is a Virginia mosque with a history of terror links:


Read more: Family Security Matters http://www.familysecuritymatters.org/publications/detail/...
Under Creative Commons License: Attribution