18 October 2012
FBI thwarts New York Fed bomb plot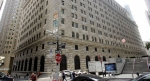 A man was arrested Wednesday morning in downtown Manhattan for allegedly attempting to bomb the New York Federal Reserve Bank building, the Department of Justice announced Wednesday.


Quazi Mohammad Rezwanul Ahsan Nafis, 21, tried to "detonate what he believed to be a 1,000-pound bomb at the New York Federal Reserve Bank on Liberty Street in lower Manhattan's financial district," according to a release from the office of Loretta Lynch, U.S. Attorney for the Eastern District of New York.

The suspect faces charges of "attempting to use a weapon of mass destruction and attempting to provide material support to Al Qaeda."
Kelly Langmesser, a spokeswoman at the FBI's New York office, told POLITICO in a phone call that "the public was never in harm's way."
The Federal Reserve Bank building is located just a few blocks away from Ground Zero, where terrorist attacks took down the World Trade Center buildings on Sept. 11, 2001.
Nafis's arrest was the result of an undercover operation in which he was being monitored by the FBI New York Field Office's Joint Terrorism Task Force. An FBI undercover agent posed as an Al Qaeda facilitator, and gave the suspect 20 bags of purported explosives, which Nafis allegedly used to assemble a bomb.
He "purchased components for the bomb's detonator and conducted surveillance for his attack on multiple occasions in New York City's financial district in lower Manhattan," the release said. "Throughout his interactions with the undercover agent, Nafis repeatedly asserted that the plan was his own and was the reason he had come to the United States."


Read more: http://www.politico.com/news/stories/1012/82548.html#ixzz...