14 October 2012
NHS boss faces death penalty over charges of torture and 18 murders in Bangladesh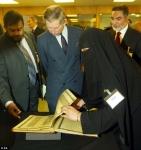 War crimes tribunal set to bring damning indictments against NHS director of spiritual care
Prosecutors want him extradited to face trial over atrocities committed in Bangladesh in 1971
One of Britain's most important Muslim leaders – who has a senior role in the NHS – is to be charged with 18 murders by a war crimes tribunal in his native Bangladesh, investigators have told The Mail on Sunday.
Chowdhury Mueen-Uddin, who is director of Muslim Spiritual Care Provision in the NHS and is also a chairman of the Multi-Faith Group for Healthcare Chaplaincy, is accused of abducting, torturing and killing 18 journalists, academics and doctors during the bloody war of independence in Bangladesh in 1971.
Mr Mueen-Uddin, 63, who strongly denies the allegations, is believed to have fled Bangladesh shortly after the war ended, and has been living in London since the early Seventies.
Bangladesh's International Crimes Tribunal (ICT) – which has been set up to try the country's most notorious war criminals still alive – has announced that it has completed its year-long investigation into Mr Mueen-Uddin. The ICT's prosecution wing will announce formal charges against him in the next few days, said a senior official at the tribunal.
Sanaul Huq, the Inspector-General of Bangladesh's national police force, who is co-ordinating the ICT investigation, said his investigators believe that Mr Mueen-Uddin killed dozens of people during the independence war, but they can link him only to 18 murders with evidence and eyewitness testimonies.

The ICT said Mr Mueen-Uddin and his associates allegedly subjected their victims to horrendous torture before killing them and dumping their bodies in sports grounds which earned the nickname 'killing fields'.

Mr Huq told The Mail on Sunday: 'They abducted an eye doctor, and then gouged his eyes out before killing him and dumping his body.
'They abducted a cardiologist and cut out his heart before killing him and dumping his body.
'They kidnapped a woman journalist, and cut her breasts off before killing her. Her decomposing body was later found with her breasts cut off.
These victims were chosen because they were leading figures in the independence movement. Mueen-Uddin was a leading figure when it comes to killing activists. This is why we want to try him in court.
'As soon as charges are made – which I can guarantee will happen in days – we will request the British Government to hand him back to Bangladesh, and we will ask Interpol for his arrest. We will use all means, diplomatic and legal, to bring him back. If we fail, we will try him in absentia.'
Mr Mueen-Uddin declined to respond to the allegations, but his lawyer Toby Cadman, a barrister at 9 Bedford Row International, said: 'As no formal allegations have thus far been put to Mr Mueen-Uddin it would be highly inappropriate for any formal response to be issued to the media.
This is a matter sub judice and therefore any and all media comment on the nature of the allegations, the strength of the evidence and the eventual outcome of the proceedings is to be avoided. It would be inappropriate at this stage to comment on the substance of the allegations. However, any and all allegations that Mr Mueen-Uddin committed or participated in any criminal conduct during the Liberation War of 1971 have been strongly denied in the past and will continue to be strongly denied in their entirety.'
if Mr Mueen-Uddin is found guilty of the charges, he could face the death penalty.
Mr Cadman added: 'The United Kingdom would not extradite a person where they are at risk of the death penalty – clearly a barrier in the present case due to the repeated remarks by the government of Bangladesh that the accused at the Tribunal will face the death penalty.'
After Britain gave India independence in 1947, the region now known as Bangladesh became a province of Pakistan, and was known as East Pakistan. But residents of East Pakistan became increasingly frustrated because they believed they were being treated like colonial subjects by their government based in the west of the country.
As a result, Bangladesh became independent in December 1971 after a nine-month civil war, during which hundreds of thousands were killed by the Pakistan military. At the time, Mr Mueen-Uddin was among those who did not want a secular Bangladesh splitting from the 'Islamic state' of Pakistan, say ICT investigators.
They say that during the civil war, Mr Mueen-Uddin was working as a journalist for a newspaper called the Daily Purbadesh in the capital Dhaka. But he was also said to be a secret member of an Islamic terrorist group called the Al-Badr Brigade, which abducted and killed leading figures of the independence movement for the Pakistani military. Mr Huq says Mr Mueen-Uddin fled Bangladesh shortly after independence, and went to Britain via India, Nepal and then Pakistan, from where he caught a flight to London in the early Seventies.
Over the decades, he became one of Britain's most influential Muslim leaders, was instrumental in setting up the Muslim Council of Britain (MCB), and is now one of the trustees of the UK's leading Islamic charity, Muslim Aid.

Read more: http://www.dailymail.co.uk/news/article-2217367/NHS-boss-...
Follow us: @MailOnline on Twitter | DailyMail on Facebook