13 October 2012
Muslim mob vandalize St. Francis Church Karachi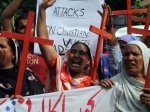 (PCP) Saleem Khurshid Khokhar, Member Provincial Assembly Sindh, Chairman Standing Committee on Minorities Affairs
Sindh and President, All Pakistan Minorities Alliance (APMA) Sindh Chapter on Friday called for protection and security to the life and property of the people belonging to the minority communities.

On the news of attack on St. Francis of Assisi Parish, Old Haji Camp, Karachi he immediately visit the church. The MPA strongly condemned the today's attack on Church where cars of Father's, holy books, doors and windows of the churches smashed to pieces.

He urged the Government of Sindh to immediately bring the culprits to book and mete out exemplary punishment to them.

Saleem Khursheed Khokhar also called for the restoration of the "Quaid-e-Azam's Pakistan" as Quaid-e-Azam had said, "In the new State of Pakistan, we shall all be Pakistanis. You are free to go to your temples, your mosques, to your churches and all citizens shall be equal in the eyes of the law."

He said the religious minorities feels unsafe. He stressed that we should respect each religion.