13 October 2012
Mosque to be built at Moscow's Kremlin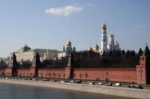 The Russian government plans to build a mosque at the Kremlin to encourage multiculturalism. The committee for urban planning of the
Central District said that the mosque will have room for 200 people. Presidential representative Igor Kholmanskikh said that the idea will promote tolerance, 3-й Римreports.
Chechen Leader Ramzan Kadyrov believes that such a decision should have been made long ago to demonstrate hospitality and tolerance.
The "Tolerance" social project is to consolidate people and minimize ethnic and religious crime. Levada Center says that 65.3% of Russians approve the construction and the "Tolerance" project, according to social polls.
The construction project will be discussed in late October and construction will start in December 2012.
Alexander Skakov, a coordinator of a working group of the Center for Studies of the Caucasus and Central Asia of the Institute for Oriental Studies of the RAS, told Vestnik Kavkaza that lack of such religious centers violates the rights of followers. He noted that Moscow lacks mosques and crowds gathering at the mosque at the Mir Avenue are a silent protest.
The expert concluded that the tendency to infringe the rights of Muslims for rituals may provoke radicalism similar to the Salafi movement.