05 October 2012
Australia to protest live export ahead of Islamic slaughter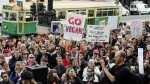 SYDNEY: With hundreds of thousands of animals expected to be slaughtered across the Islamic world later this month, and many of the cows and
sheep coming from Australia in live export vessels, Australian activists are to take to the streets across the country to protest the government's continued approval of the controversial practices.
Spearheaded by Animals Australia, the protests will be held in the cities of Melbourne, Sydney, Brisbane, Adelaide, Perth, Canberra and Hobart.
"If you care about animals and want to see them protected from cruelty, then please join us this Saturday as we rally side-by-side, right across the country, for an end to live export," said Animals Australia in a press release announcing the protest to its followers.
It also comes on the heels of a report that live export sheep were clubbed to death and buried alive in Pakistan last month in what activists say was a "shocking incident."
"These are the latest tragic results of a live export industry that sends animals to be killed in countries where there are no laws to protect them from cruelty," said Animals Australia in a press statement.
"No politician can defend a trade that comes with the risk of animals being clubbed, stabbed, or buried alive. Enough is enough. Today, don't let your MP off the hook," the animal rights group added.
In revealing the terrible tragedy, Animals Australia urged Australian citizens to call on their representatives to push for an end to the live export trade.
Pakistani officials confirmed to Bikymasr.com on that they would go forward with the killing of more than 21,000 sheep despite Australian government assurances that the animals were safe to be slaughtered for food.
Australian diplomats have repeatedly urged Pakistan to stop the killings, saying the animals are not infected with disease.
Pakistan ordered the cull after the ship carrying the sheep had been turned away by the Bahraini government and tested positive for salmonella and actinomyces.
Australia's High Commissioner to Pakistan Peter Heyward said he was "surprised and concerned" about the killings, as he argued the animals met the south Asian country's health requirements for imported sheep and they posed "no human or animal health risks."
Salmonella and actinomyces, he argued, "are part of normal gut flora and are present in livestock throughout the world, and in this form pose no threat to human health."
In Pakistan, Karachi's top administrator Roshan Shaikh told reporters that the sheep killings would continue.
"There is no suspension in the process, as the bacterial presence in the animal is confirmed and we can't put human life in danger in Pakistan," he said.
It comes after Egyptian officials refused to allow a shipment of young cows into the country last month from Brazil after officials in Cairo said the animals were infected with unknown hormones.
Over 32,000 cows were slaughtered as a result after being forced to remain at port for weeks, causing mass deaths on board the ships.
The stranded cows had made international headlines after Bikyamasr.com first reported their situation on September 1, including a Care2.com petition that was signed by over 25,000 people globally urging the Egyptian government to free the baby cows from their horrific conditions.
Background on Live Export
Live export from Brazil and Australia to the Islamic world is a controversial practice that sees thousands of animals crammed into small crates and transported by sea to their destination to be slaughtered for food.
According to the ministry, tests had been conducted to learn more about the potential carcinogen that had been given to the animals before they would be unloaded. Tests had reportedly been ongoing for the past month at a private lab in Egypt, but no results had been conclusive.
According to a al-Shorouk newspaper report, the animals are likely to remain in their confinement for a number of weeks more in order for further tests to take place.
Earlier this year, some 3,000 of the cows died on a ship destined for Egypt after the Egyptian government refused to allow the ship to dock at a Red Sea port.
They were slaughtered as a "precaution," the ministry said, outraging a number of Egyptians.
Animals Australia, the leading organization reporting on the controversial live export trade to the Middle East and Southeast Asia, said the incident was among the worst the industry had witnessed in years.
Animals Australia's Campaign Director, Lyn White, said in a statement to Bikyamasr.com that the ship was anchored at sea after being refused port in a number of countries, including Egypt, where the cattle were supposed to be offloaded.
It's understood that ventilation problems on the converted livestock vessel, the MV Gracia Del Mar, had caused the deaths of more than half of the animals on board since the ship left South America for Egypt a few weeks ago. The ship was anchored in the Red Sea for weeks and saw more animals perish as a result.
"This is nothing short of an animal welfare disaster. If remaining cattle are not offloaded more of these animals will suffer appalling deaths at sea. We are appealing to authorities in Egypt to offload the remaining cattle at al-Sohkna, as was originally intended.
"This disaster is just another example of the inherent risks of transporting animals by sea. It was only nine years ago that 5,000 Australian sheep perished on board the MV Cormo Express after country after country refused to allow it to berth.
"And this isn't the first time that mechanical issues have caused mass deaths on live export ships. We only need to look to the breakdown of the Al Messilah in Adelaide last year. Had that vessel broken down on the open ocean it would have caused a similar welfare catastrophe — as thousands of animals would have died.
"Australia also exports cattle to Al Sohkna Livestock company in Egypt. Whilst we have an MoU with Egypt which should ensure the offloading of our animals, it has never been put to the test. The Egyptians thus far have flatly refused to allow the MV Gracia Del Mar to dock despite the mass suffering of the animals on board.
"If they continue to refuse to allow the surviving animals to be unloaded it would provide little confidence that the non-binding agreement with Australia would be honoured if a similar incident were to occur on an Australian livestock ship.
"It should not matter if these cattle aren't Australian and if Brazil doesn't have a similar piece of paper, they should not be abandoned to suffer and die at sea. We are appealing to Egyptian authorities to offload these cattle as a matter of urgency."
Australia's live sheep exports have fallen significantly over the past decade.
In 2010, three million sheep were exported compared with 6.3 million in 2001.
Australia's government last year was to see a bill that would have banned live export to the world, but industry lobbyists fought back and forced the legislation off the table in a move that angered animal activists in the country and across the world, notably the Islamic world, which receives the lion's share of live cattle and sheep from both Australia and Brazil.