22 September 2012
Head of Muslim Association in Greece Labels PM Samaras "Biggest Racist"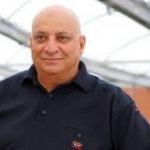 What is the purpose of adding oil to the fire when there is already tension anyway? Head of Muslim Association in Greece labeled
Prime Minister Antonis Samaras as Greece's "biggest racist." Naim El-Ghandour was speaking at a press conference in Athens, where writers, journalists and academics criticized the provocative film The Innocence of Muslims, a film that sparked violent reactions around the Muslim world. El-Ghandour condemned the film but also the extreme reactions on the part of the Muslims saying that such actions "cannot characterize an entire religion."
Head of Muslim Union labels Samaras Greece's biggest racist
The head of the Muslim Union of Greece, Naim El-Ghandour, has labeled Prime Minister Antonis Samaras as "the biggest racist in Greece."
"The prime minister is a racist," said El-Ghandour. "I live in a country, where the prime minister is a racist. I am basing this on the election campaign he ran, during which he labeled us conquerors."
Samaras has adopted a tough line against illegal immigration and during the summer election campaign, he referred to migrants as "the tyrants of Greek society".
El-Ghandour also warned that the harsh treatment of immigrants could backfire.
"It's very dangerous to have migrants who are hungry, exhausted, without any future," he told Proto Thema newspaper. "It is like a ticking timebomb. We should not put any more pressure on it." ((ekathimerini)
Speaking to NewsIt, El-Ghandour said that Muslims in Greece feel as "second class citizens" then they have no places for worship but that they gather in basements in order to pray. As for the phenomenon of the increasing racist attacks, he said that it's not only the Muslims being attacked but also the Christians from Egypt."I am sure, as soon they finish with the Muslims, they will turn against others," El-Ghandour said.
Naim El-Ghandour is an Egyptian born Muslim who lives in Greece since several years. The Muslim Union of Greece was established in 2003.
Government Comment