22 September 2012
Convert to Islam arrested for bomb threat at UT-Brownsville made in retaliation for derogatory comment about Islam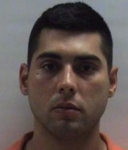 See? If it were illegal to make derogatory comments about Islam, Henry Dewitt McFarland III, convert to Islam, would never have had to make his bomb threat. He
would be free today, and all would be well. Repeal the First Amendment! "Derogatory comment against Islam motive in UTB bomb threat," by Sergio Chapa for ValleyCentral.com, September 17:
Court records show that a derogatory comment made against Islam was the motive in a weekend bomb threat at the University of Texas at Brownsville.

UTB police arrested 25-year-old Henry Dewitt McFarland III on a terroristic threat charge on Sunday afternoon.

The Harlingen man is accused of phoning in a bomb threat to the UTB campus early Sunday morning.

Court records released on Monday show that McFarland made the threat to the National Veteran's Crisis Hotline.

McFarland allegedly told the operator is a Marine Corps veteran suffering from post-traumatic stress disorder and in the process of converting to Islam.

According to the records, McFarland was planning to detonate a bomb in retaliation to a classmate making a derogatory remark against the Muslim faith.

McFarland told the operator that he had a pressure plate bomb in his living room.

The Harlingen veteran told the operator that he receiving counseling for anger management and domestic violence....
Oh, good. That'll fix everything.