22 September 2012
Cleric found guilty in Rimsha Masih 'blasphemy' case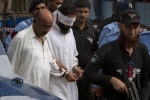 A high-powered team investigating the Rimsha Masih ''blasphemy'' case has found the cleric of a mosque guilty, and has declared Rimsha as innocent due to lack of evidence.
Rimsha, believed to be around 14 years of age and reportedly suffering from some mental disability, was allegedly seen burning pages inscribed with Quranic verses, last month. The news of the desecration spread like wild fire, following which furious locals bashed up Rimsha and her mother. The police later arrested Rimsha on August 16 on the demand of the locals. Rimsha languished in judicial custody for weeks, after which she was released and transferred to an undisclosed location.
The police have now found cleric Khalid Jadoon Chishti guilty of hatching conspiracy against Rimsha who was arrested by the Islamabad police on the former''s complaint, reports The News.
The case took a new turn when a witness said in his statement before the police that the Chishti had added some burnt pages of the Holy Quran to execute his plan to expel the Christian community from the locality, police sources said.
Two other witnesses confirmed the statement, police sources said.