18 September 2012
Sydney cleric Sheik Feiz Mohammed stirs the hatred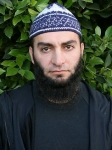 A CONTROVERSIAL sheik whose teachings have been linked to the Sydney riot is due to address a gathering of hardline Muslims tomorrow about their "responsibilities" in the wake of the YouTube clip mocking their prophet.
Hundreds of hardcore Islamists are due to converge on the Bukhari House bookshop-cum-prayer hall in Auburn to hear firebrand cleric Sheik Feiz Mohammed and several other sheiks speak. Police are aware of the event but would not comment yesterday on whether they would have a presence at the meeting.
"The Mashayakh (sheiks) will discuss the recent events that have been taking place where our beloved Prophet (peace be upon him) has been attacked and mocked. They will discuss our responsibilities regarding this matter," a pamphlet promoting the "special event" states.
It can be revealed that militant followers of Sheik Feiz were key players in Saturday's riot. The Ahlus Sunnah wal Jamaah (ASWJ) and the self-styled Islamic Brotherhood Worldwide are believed to be behind a text message circulated late on Friday night bringing forward the protest and catching moderate Islamic community groups and police off guard.
The sermons of Sheik Feiz, 42, have often denounced other religions and he has urged children to die for Islam.
In 2000, he founded the Global Islamic Centre in Liverpool which became the touchstone of Muslim youth in southwestern Sydney and spawned the Islamic Brotherhood Worldwide. In 2007, the sheik established the Dawah Central centre in Auburn.
In 2010, it became the ASWJ Auburn and the group has several other locations around Sydney and Australia.
According to company documents, Feiz's last known address was a $575,000 rural retreat in the Southern Highlands with its own "fish-filled" dam, inground pool, games room with bar and separate self-contained flat.
The Australian-born sheik, a former boxer, was at one time the director of a company that built kitchen cabinets on Sydney's northern beaches. He almost represented Australia in the sport of bodybuilding but quit to follow the path of Islam.
He gained notoriety for blaming women for being rape victims and for his "Death Series" $150 boxed set of 15 DVDs which contained racist rants. The father-of-six, who claimed he was being persecuted for being a Muslim, returned to Sydney from self-imposed exile overseas in 2010.
Other notable comments from the sheik include his belief that jihad is the "peak, the pinnacle, the crest, the highest point" of Islam and the Kaffir - or non-Muslim - is "the worst word ever written, a sign of infidelity, disbelief, filth, a sign of dirt".
Yesterday at Bukhari House, a spokesman said that Sheik Feiz Mohammed attended the centre "infrequently".
At the Global Islamic Centre, spokesman Abu Bakr said he had not seen the sheik "for months".