15 September 2012
Moroccan man sentenced to 30 years in U.S. bomb plot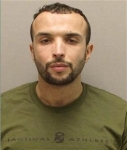 (Reuters) - A federal judge sentenced a Moroccan man to 30 years in prison on Friday after he was caught in an FBI sting operation planning to detonate a bomb in the U.S. Capitol building, prosecutors said.
Amine El Khalifi, 29, an illegal immigrant who lived in Alexandria, Virginia, was sentenced after pleading guilty in June to attempting to use a weapon of mass destruction.
He faced a maximum sentence under the law of life in prison, but prosecutors agreed to 25 to 30 years as part of a plea deal.
"The sentence in this case must be a beacon to those would seek to commit such attacks that, when caught and prosecuted, they will be sentenced to decades," prosecutors for the U.S. Justice Department said in court papers before the sentencing.
U.S. District Judge James Cacheris imposed the sentence in federal court in Alexandria.
El Khalifi's lawyers asked for a sentence of 25 years, saying that would be enough to deter others from pursuing similar plans.
The FBI's tactics in the case, including providing El Khalifi with what he thought were working explosives, were legitimate but weighed in favor of the shorter sentence because he never put anyone in actual danger, his lawyers said.
"Every significant movement by Mr. El Khalifi was monitored and observed by the FBI, to include even aerial surveillance," the lawyers said in court papers.
El Khalifi was raised in Casablanca, his lawyers said in court papers. He came to the United States in 1999 on a tourist visa with his father and "became enamored with America," staying behind with an uncle as his father returned to Morocco.
He moved to the Washington area in 2000 and held a variety of jobs, including retail clothing sales in the upscale Georgetown neighborhood, his lawyers said. A nightclub argument in 2007 resulted in his conviction on misdemeanor criminal charges, an incident that led to a deepening commitment to his religion, Islam, they said.
In conversations with FBI agents who said they were from al Qaeda, El Khalifi talked about wanting to bomb U.S. military targets on behalf of God, prosecutors said. He changed his mind and focused on the Capitol building, seat of the U.S. Congress and a popular tourist attraction.
(Reporting by David Ingram; Editing by Eric Beech)