12 September 2012
Pakistan 'blasphemy' family tell of fire threat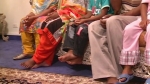 The family of a young Pakistani Christian girl, known as Rimsha, who is accused of blasphemy, say their Muslim neighbours threatened to burn them alive inside their home.
Speaking to the BBC under tight security, Rimsha's father said he feared for their lives.
He insisted his daughter was innocent. Rimsha was released on bail on Saturday, but could still face charges.
She had been accused of burning pages from an Islamic textbook.
But a cleric who had accused her was arrested last week for allegedly planting evidence against her, and himself desecrating the Koran.
The case has sparked fresh concerns about the misuse of Pakistan's strict blasphemy laws.
Mob
Rimsha's parents, who are not being named for their own safety, told the BBC's Orla Guerin that their daughter was a shy 11-year-old who was illiterate - like the rest of the family - and had always been slow.
Continue reading the main story
"
Start Quote
They were saying: 'We are going to burn you inside the house... then we will burn the homes of the other Christians'"
End Quote
Rimsha's father quotes some of the family's Muslim neighbours
They said she was sitting quietly at home in their poor neighbourhood on the outskirts of Islamabad when a crowd gathered outside, claiming she had burnt pages from an Islamic textbook. Her mother described trying to hold off the mob.
"A woman hit me," she said, "and slapped my face. People started running into the house to catch my daughter. I was scared they might kill us. We were all crying. My daughter was very upset."
The family said Rimsha survived by locking herself in the bathroom. Her 14-year-old sister, who was locked in the house with her, was also traumatised by the events.
"A lot of people had gathered," Rimsha's sister said, "and they were saying: 'We will cut off the hands of the people who burned the Koran.' Rimsha wouldn't come out of the bathroom. Later the police came and took her away."
The entire family was at risk, according to Rimsha's father - a slight man with a hunted look, who used to earn his living as a house painter. He told our correspondent that their Muslim neighbours had threatened to set them alight.
On the run
"They were saying: 'We are going to burn you inside the house,'" he said. "'We are not going to spare you or your kids. Then we will burn the homes of the other Christians.'
"Even after we left the area they were saying: 'Bring the girl and the family to us. We want to kill them.'"
The family has been in hiding for weeks, moving from place to place under tight security. The government promised to protect them, but past history made them fearful, they said.
"We are worried that we can be attacked and killed any time," Rimsha's father said. "Before, when cases like this have arisen, people who were accused were killed."
Mobs or vigilantes have killed more than 30 people suspected of blasphemy in the past 20 years, according to Christian leaders.
The family insist that Rimsha did not burn any Islamic textbooks.
'Plot'
"We don't have [Muslim] books in our home," Rimsha's father said. "We don't use them and none of us could read them."
Other Christians in their neighbourhood believe Rimsha was the innocent victim of a plot to rid the district of Christian families.
Christians say there were complaints about the noise they made when singing hymns at mass on Sundays.
The imam of the local mosque has been arrested, accused of fabricating evidence against Rimsha. His own deputy claimed the imam had added pages from the Koran to a bag full of ashes allegedly discarded by Rimsha.
Her arrest caused an international outcry and complaints from some senior Muslim clerics in Pakistan - a rare show of concern for a blasphemy suspect, our correspondent says.
Many believe the case against Rimsha will eventually be dropped, she adds.
But though she is out of jail, she may not be out of danger. Her family fear that while they remain in Pakistan, the blasphemy allegation could follow them wherever they go.