12 September 2012
Libya: American killed in attack on US consulate in Benghazi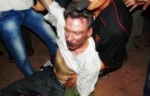 Spokesman for Libya's supreme security committee says member of staff at consulate has died following clashes.(http://www.guardian.co.uk/world/2012/sep/12/american-kill...)
An American member of staff at the US consulate in Benghazi has died following fierce clashes at the compound, two Libyan security sources said on Wednesday.
"One American staff member has died and a number have been injured in the clashes," Abdel-Monem Al-Hurr, spokesman for Libya's supreme security committee, said, adding that he did not know the exact number of injured.
Gunmen attacked the compound in the eastern city on Tuesday evening, clashing with Libyan security forces before the latter withdrew as they came under heavy fire. Reuters reporters on the scene saw looters raiding the compound, walking off with desks, chairs and washing machines. A security official said a fire was burning inside the consulate and that staff had been evacuated. Three injured members of the Libyan security forces taken away in an ambulance.
The gunmen formed part of a group protesting against a US film they say is blasphemous.
The incident followed a protest in Egypt where demonstrators scaled the walls of the US embassy, tore down the American flag and burned it during a protest over the same film, which attacks Islam's prophet, Muhammad.
The film, clips of which are available on YouTube, depicts Muhammad as a fraud, showing him having sex and calling for massacres. Muslims find it offensive to depict Muhammad in any fashion, much less in an insulting way.
Hurr said roads in Benghazi had been closed off and security forces were surrounding the building. He said the clashes were outside the consulate building.
"There is a connection between this attack and the protests that have been happening in Cairo," he added.
"They are trying to take advantage of the security situation in Libya and cause more instability in the country."
The United States condemned the Benghazi attack and said efforts are underway with the help of Libyan authorities to secure the facility.
State Department spokesperson Victoria Nuland said: "We can confirm that our office in Benghazi, Libya has been attacked by a group of militants. We are working with the Libyans now to secure the compound. We condemn in strongest terms this attack on our diplomatic mission."
Benghazi, the cradle of last year's uprising that toppled Muammar Gaddafi, has been hit by several bombings and attacks on international convoys as well as some western missions.
In June, an explosive device was dropped from a passing car outside the offices of the US diplomatic mission. The blast that followed slightly damaged the gate in front of the building. A week later, a British embassy convoy was attacked about 300 metres from the British consulate office in the city.